SCHOOL SAFETY VMS
Alert drivers to the hazards around schools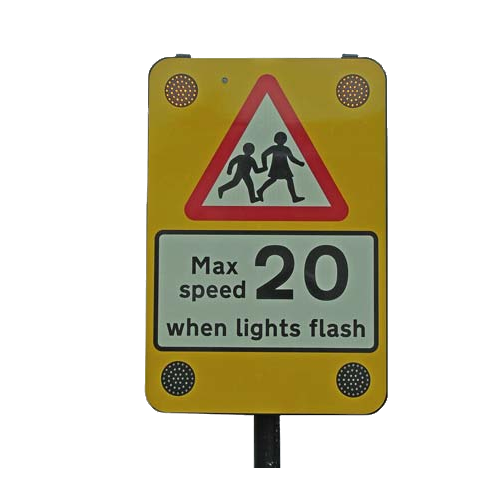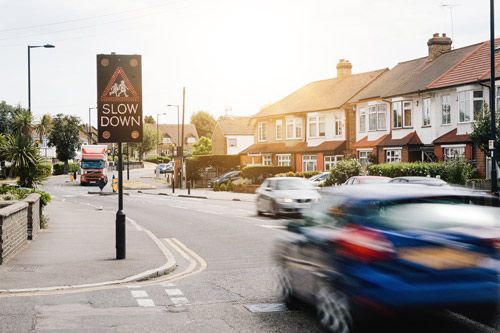 Specific to the unique environment of roads around schools, SWARCO's latest range of school warning variable message signs (VMS) can be configured to suit local requirements.
A variety of designs are available including temporary speed restrictions, or the warning triangle with a representation of children crossing and text.
Using SWARCO's patented low energy LED system means that renewable power sources such as solar are an ideal power solution or alternatively mains or switched mains are available.
Managing these signs with SWARCO's sign management system means you are able to easily timetable signs to fit with local school hours and term times up to three years in advance, time synchronise multiple signs at the same location for maximum effect and gain access to a fully comprehensive report recording sign status, timetables, activations as well as power consumption and error reports. All of this can be accessed either on site via wi-fi or remotely using our web-based interface, Zephyr.
Conforms to all relevant standards
Various
Options & Bespoke Designs
Key benefits are;
Improve safety in the areas around school by alerting drivers to the speed limit or other dynamic messages
Implement temporary speed restrictions with flexibility for school times, days and term times
Ability to set timetables on site or from a remote web based interface up to three years in advance
Receive updates in real time on activation, power consumption, data logging and error reports reducing the need for site maintenance visits
Synchronise up to 8 signs for maximum effect and to ensure a clear message is conveyed to drivers
Ability to switch onto sleep mode when not in use
Setup email or SMS alerts in the event of power failure, extreme temperatures or communication failures
| | |
| --- | --- |
| Communication with interface | Ethernet / Wi-fi/ 2G/3G/4G Modem; Accessible locally using access point or remotely via 4G connection |
| Master to slave sign network communications | 300m built in radio, 6Km external radio with option to increase with dummy signs |
| Network Size | 8 signs per network |
| Timetabling | Allows control of; flashers, modem, radio/s, 24/48v inverter, GPS receiver. Able to move signs into sleep mode or select on/off times or 'special days' |