TDC1 TRAFFIC DETECTORS
Low-Power Non-Intrusive Pir Traffic Detectors for Single Lane Traffic Data Acquisition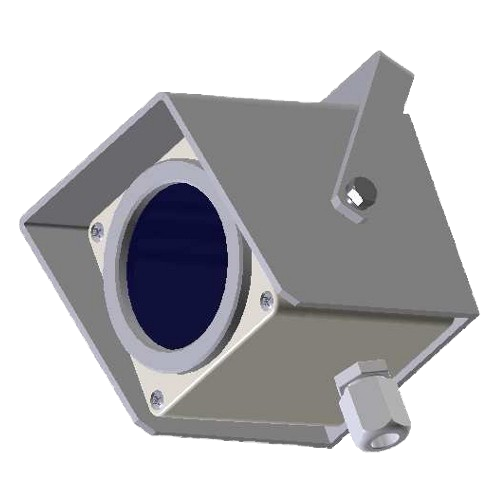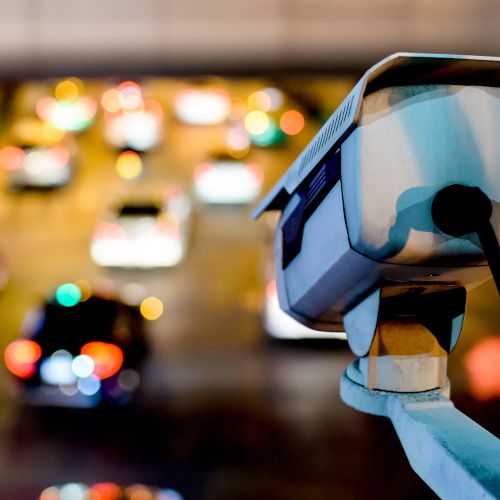 The TDC1 Series are advanced traffic detectors using passive infrared technology. Comprehensive traffic data including individual vehicle class, speed, length, occupancy time and
time gap are provided via RS 485 databus.
TYPICAL APPLICATIONS:
TDC1 Series detectors are specifically designed for a variety of Traffic Data Collection and traffic control applications where
low power consumption is required:
Vehicle counting (volume)
Individual vehicle speed
Vehicle classification
Presence detection
WORKING PRINCIPLE:
TDC1 traffic detectors employ multiple PIR detection zones.
A combination of static and dynamic detection channels form
a total of five detection zones. The thermal radiation contrast
of a vehicle moving into or through the detection zones against the background radiation of the road surface correlates to the passage or presence of a vehicle. The sophisticated signal processing transforms the sensors analog data into digital information for each event without the need for external computing equipment.
MOUNTING:
Recommended mounting points are gantries, overpasses or bridges or alternatively on a pole at the roadside. Clearly superior performance and reliability are a result of:
Multi channel PIR detection
Full temperature compensation across entire temperature range
Sophisticated algorithms eliminating impact of environmental changes
ACCESSORIES:
Interface RS 485 & Software:
For the communication between detectors and a PC during commissioning and maintenance an interface module in combination with the dedicated software is necessary. The interface module and software have to be ordered separately.

Mounting Accessories
A bracket for mounting the detector on a round pole is available as separate accessory (not included in standard delivery).

Alignment Tool
A mechanical alignment tool for quick and accurate installation is available. The tool can be easily put on top of the device and allows the installer to align the detector using the integrated level and sight.
Field of view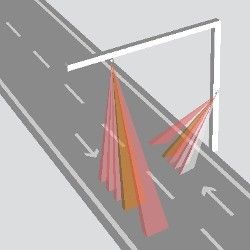 Benefits
Ultra Low
Power Consumption​​​​
Wide Operating
Temperature Range
Ultra low power consumption: ≤ 60 mW, ideal for solar powered installations
Multi channel PIR detection: Total of five detection zones
Vehicle classification by length: 3 standard classes
Up to 5 vehicle classes possible (depending on customer length threshold setting)
Auto calibration: Via according installation software using mounting height and distance to the centre
of the observed lane
Wide mounting height range: Mounting height between 5.5 m and 18 m
(max. offset 45° from detector's mounting location to the centre of the observed lane).
Application-dependent limitations apply
Detection of standing vehicles
Detection of wrong-way drivers
Wide operating temperature range (–40 to +70°C): Optimum performance in all weather and climate conditions
Remote configuration and setup: With according installation software
Technical Details
Supply Voltage

5.5 V DC to 30 V DC

Power Consumption

Typ. 10 mA @ 6 V DC

Output (Data Transfer)

RS 485 (other options on request)

Turn-on Time

Typ. 20 s from power on

Dimensions

See illustrations below

Case Material

Polycarbonate, dark grey

Weather protection enclosure

Stainless steel V4A

Weight

App. 960 g incl. bracket

PIR Sensors

5 channel PIR

PIR Spectral Response

6.5 μm to 14 μm

Counting accuracy

Typ. ±3 %

Speed accuracy

Typ. ±5 % (> 100 km/h)
Typ. ±5 km/h (≤100 km/h)

Classification accuracy

3 standard classes, each 95 %
The specifications refer to free traffic flow, detector operated in recommended setup

Operating Temperature

–40°C to +70°C

Humidity

95 % RH max.

Sealing

IP64 splash proof