GHIG ENCLOSURE FOR 300 SERIES
Protection Class IP65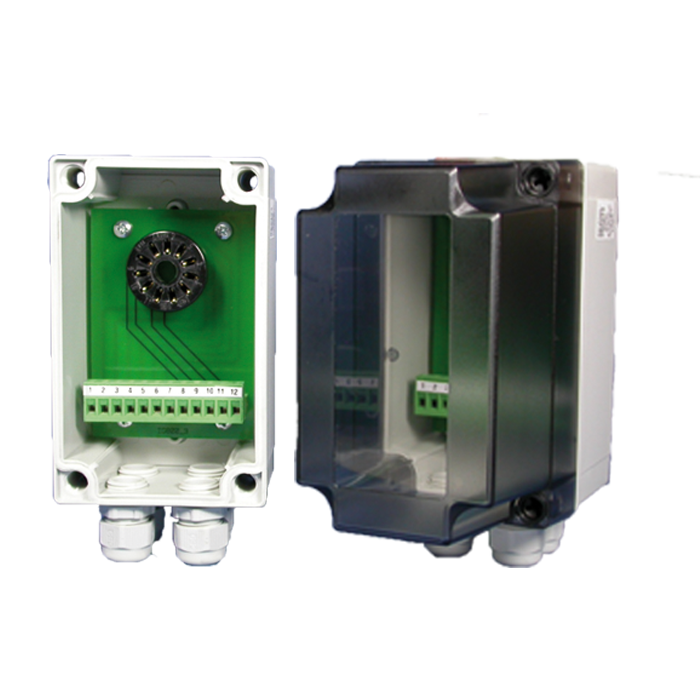 The enclosure for the loop detector series IG3x6 is made of polycarbonate and has a smoky-grey transparent cover. Among its outstanding features are the high impact resistance, the wide temperature range and the high protection class IP65 (IEC 529). Because of its material characteristics, this enclosure is particularly well suited for heavy industrial use:
Resistance to
hydraulic oil
cooling liquids
salts, acids and alkaline substances.

The enclosure has four waterproof Ipon cable screw fixings size M16 with pull relief and protection class IP68. If the screw fixings are not used, they must be sealed against intrusion of liquids and contaminants with the corresponding plugs. The connector of the loop detector has a 12-pin terminal point.
The pin assignment of the terminal point is identical to the pin assignment of the loop detector.
Please note the self-heating of the devices. If the detectors IG316 or IG326 are operated in the GHIG housing, the maximum permissible ambient temperature will be reduced to 55° C.
Easy mounting and adaptation with plug connector
Suited for IG316 and IG326 as well as all predecessors
Four screw joints for cable feedthrough M16
Three blind plugs to close unused feedthroughs