IG316 and IG326
Inductive Loop Detectors for Barriers, Gates and Parking or Automated Applications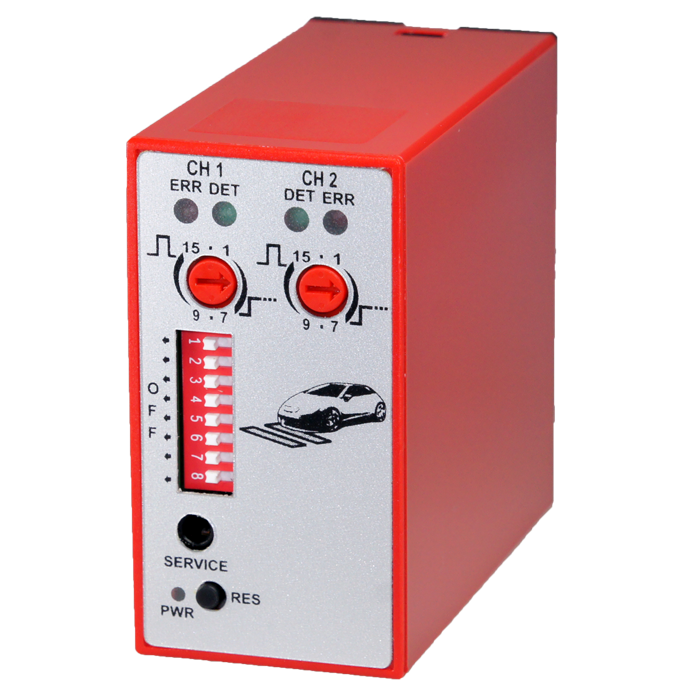 The inductive loop detectors IG316 (single-channel) and IG326 (dual-channel) were designed for the reliable vehicle detection at barriers, gates and parkings. They are used for vehicle access control at door and barrier controls, for monitoring the occupancy and for vehicle counting in parking garages, for signal output with traffic light installations and traffic controllers, for direction detection of vehicle traffic and for safeguarding and monitoring of e.g. conveyor systems, car-wash plants. The detectors are optimized for the reliable detection of different vehicles such as bicycles, motorcycles, cars, heavy goods vehicles, cars with trailer, forklifts and others.
FEATURES:
Reliable data acquisition independent of environmental influences
Intuitive pre-configuration without supply voltage and easy initial operation
Fast automatic tuning after switch-on
Wide adjustable range of response sensitivity
Sensitivity boost
Selectable relay functions: Permanent or impulse mode, impulse signal when leaving the loop, switchable turn-on / turn-off delay,
Closed / open circuit principle
Continuous adjustment of frequency drifts because of e.g. changing temperature and humidity
No interference of loop frequencies due to "multiplex mode" (only IG326)
High noise immunity due to frequency adjustment and oversampling
Permanent loop control and display via LED blink code for immediate detection of inductive loop failures (loop short-circuits, loop disruptions, wrong frequency range, operational disturbances, alignment time)
Direction signal (only IG326)
Wide inductivity range: 20 μH - 2000 μH
Simple simulation mode to test peripherie
FUNCTIONAL DESCRIPTION:
The induction loop detectors IG316 (single-channel) and IG326 (dual-channel) analyze the loops in the ground, working as inductivities of a high frequency oscillating circuit. The metal body of a vehicle passing the loop causes a characteristic change of circuit frequency. The loop detector analyzes it and sends a switching signal to the potential free relay output. This is also displayed at the front panel LEDs.
The loop signals are analyzed by a microprocessor. When the detector is switched-on an automatic alignment with the connected inductive loop is executed. There is no interference of loop signals since the dual-channel version IG326 analyzes the loops in a defined order (multiplex mode) so that only one loop is active at one time.
The single-channel version IG316 analyzes the loops continuously. Changing loop inductances because of temperature or humidity are automatically compensated.
Via rotary and DIP switches on the front the detector can be comfortably set.
For the versions IG316S and IG326S all current parameter
and diagnosis values can also be set and readout via serial interface on the front of the device.
This is done by means of the LoopMaster operating program which is available free of charge and which additionally offers extensive loop and detector analysis functions. The trend-setting customizing allows an individual configuration and setting of operating elements and functions.
For heavy industrial use the protecting enclosure GHIG301 is available.
Comfortable operation -
"LoopMaster" program
Additional Functions IG316S and IG326S:
Comfortable operation by means of "LoopMaster" program
Customizing: Individual adjustment and configuration of switch functions
For heavy industrial use the protecting enclosure GHIG301 is available.
Technical Details
Power supply

230 V AC or 115 V AC or 24 V AC/DC

Power consumption

230 V AC: < 4.5 VA ; 115 V AC: < 4.5 VA ; 24 V AC/DC: < 3.0 VA

Inductivity range

Permissible range: 20 μH to 2000 μH, recommended range: 100 μH to 300 μH

Sensitivity


adjustable in 7 steps, from 0.3% - 0.007%
(frequency change f/f0 in%)

Interfaces

Service interface AJ-USB via optionally available service cable (only IG316S and IG326S)

Outputs
Floating relay contacts per channel

Dimensions

Plastic enclosure: Height: 68 mm, Width: 37 mm, Length: 75mm

Operating / storage temperature

-25°C to +70°C / -40°C to +80°C

Protection class

II

Terminal strip
11-pole plug (type 78-S 11)