Welcome to SWARCO E.CONNECT
Europe's First Cross Continent
Electric Vehicle Recharging Network.
We offer you an accessible, reliable, market leading back office solution. SWARCO E.CONNECT is a pan-European electric vehicle (EV) recharging network that accommodates both eVolt and third party EV Charging Stations.

It's completely free for EV drivers to join SWARCO E.CONNECT online or via the mobile app.

With no connection fees for Charging, drivers have access to all public Charge Points on the network throughout the whole of Europe.
The location and live status of all Charging Points can be seen online or via the app. The helpful journey planner
feature shows drivers all available Charge Points, so planning any recharges along the way is simple.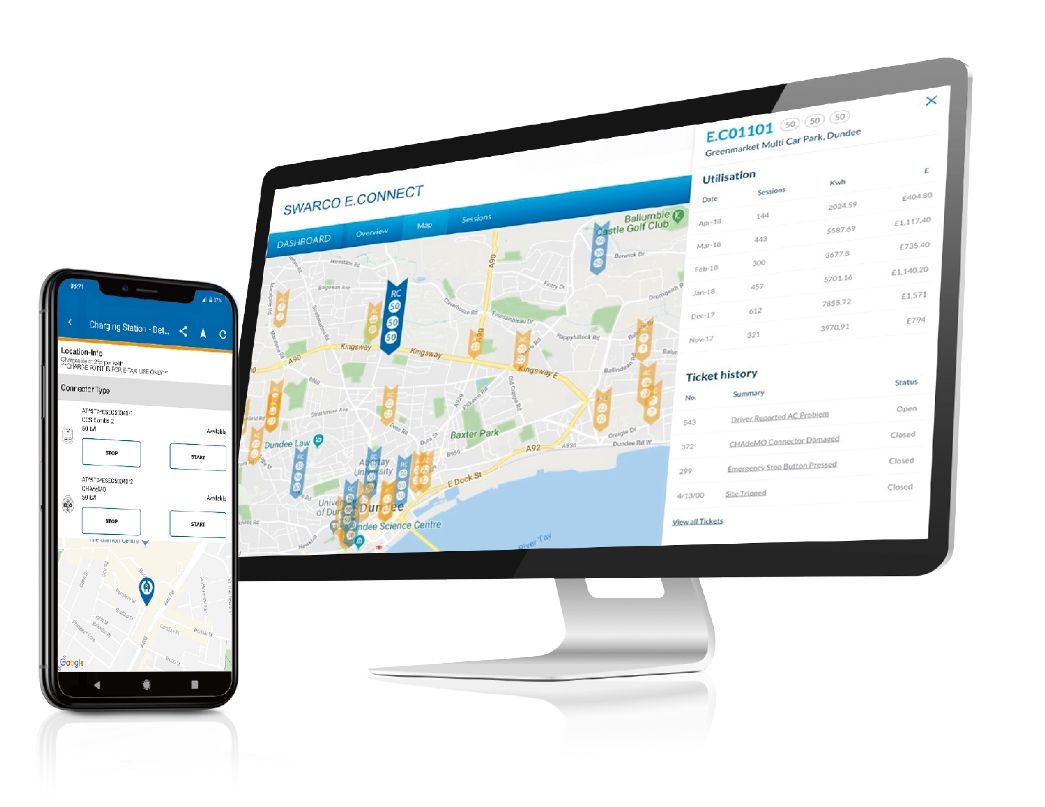 Join Our Network
SWARCO E.CONNECT can be integrated into existing parking management systems while incorporating fault management processes so that historic Charge Point technical issues can be viewed online. Sophisticated analytics and advanced reporting tools enable Charge Point owners to assess the environmental impact. Automated usage statistics are also delivered in a smart report.
Compatible with all OCPP-compliant Charge Point manufacturers and service companies, SWARCO E.CONNECT ensures the most efficient uptime across its network, with automatic and instant fault reporting. With 24/7 365 days a year customer support for Charge Point owners and EV drivers, any issues are addressed without fuss or delay.
SWARCO E.CONNECT also integrates with current SWARCO applications including parking barriers, traffic guidance systems and ANPR platforms. This allows seamless customer interaction between parking and charging.
Compliant with OCPP versions 1.5+ & 1.6 and fully integrated with utility providers for unmetered supplies, i.e. for lamp post charging. With a commitment to continuous development, including future integration with other SWARCO group products and services, we will ensure our network is future proofed.
.
The Complete Electric Vehicle
Charging Solution
Benefits for Charge Point Owners
Advanced reporting tools including figures on environmental impact
Usage statistics and reports delivered weekly
Fleet monitoring services
Incorporated fault management process, with visibility on all historic issues
Integration with existing parking systems
Compatible with all Charge Point manufacturers and service companies
Benefits for EV Driver
Free to join
No connection fee for Charging
One off approx. € 10 cost for RFID access card
Transparent pricing with VAT always included in Charging costs
Journey planner
Charge Point reservation
Favourite Charge Point status update
We are totally committed
to lowering emissions by
providing a reliable and highquality
charging infrastructure
across Europe.