Glass Recycling
In the Austrian province of the Tyrol, SWARCO is responsible for the collection of waste glass for recycling purposes. The drivers of our fleet of specialized trucks make sure that bottles, jars and other glass packagings as well as flat glass cullet are consistently collected and then given a second life.
Contact Us !
If requested, we can also collect the glass directly from your home, company or community. Simply contact us under
+43 (0)5224/ 5877-10
Used glass collection
The material cycle for glass packaging is almost perfect. Glass can always be melted down and reprocessed. There is no loss of quality. This cycle enables us to save valuable primary raw materials and thus make a significant contribution to preserving the environment.

Glass recycling is an Austrian success story and we are proud to contribute to it. In our country, more than 2/3 of the glass packagings produced is now made from waste glass, a fact we can be proud of.

Together with our customers, i.e. you as consumers, we continuously work on improving the cycles on an even higher quality level. You, too, can contribute to the success story with a conscious glass separation. We have summarized the most important measures for you.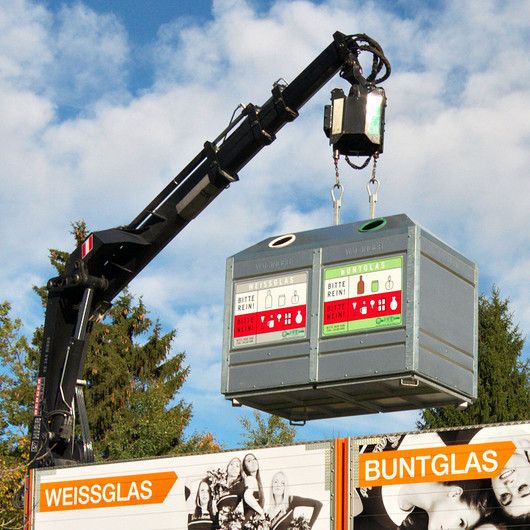 Link Tip:
Our partner Austria Glas Recycling GmbH (AGR) has compiled a lot of useful knowledge about the collection of waste glass, the re-use of secondary glass and the technical implications of glass recycling:
Recycling of broken flat glass
SWARCO has more than four decades of track record in the Tyrol when it comes to collecting and recycling flat glass cullet. We offer consultancy to our customers, i.e. Tyrolean communities and businesses, in order to optimally protect our environment when it comes to the re-use of waste glass.
SWARCO rents or sells waste glass containers of different sizes and organizes the regular pick-up.
Our services:
Individual on-site consultancy

Set-up of containers of various sizes

Regular emptying
The dedicated separate collection of flat glass is the basis for re-using this material for useful purposes, protecting the environment and creating more safety on the roads.
Did you know that broken flat glass is used by SWARCO to produce glass microspheres which make road markings visible at night?