Traffic management projects in three Romanian cities
A perfect example of the combined power, quality and know-how of SWARCO companies comes from Romania. Bucharest-based SWARCO TRAFFIC ROMANIA proudly reports the award of three EU-funded projects related to the traffic and public transport management of three cities with approx. 80,000 inhabitants each. The projects worth several million euros in total include the supply and installation of traffic lights, traffic controllers, variable message signs, video cameras, traffic detectors, the construction of communication systems and the system integration.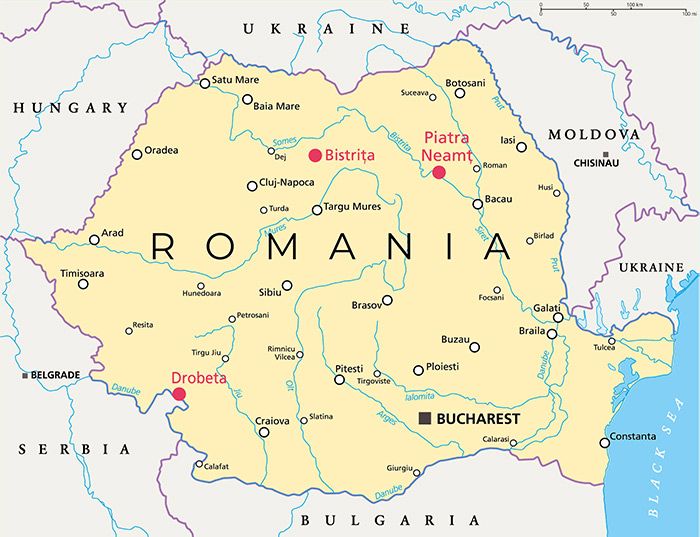 "We are very grateful for the full support by our sister companies in Germany, Italy, Austria, Denmark, and Slovenia to implement these projects and improve mobility in Romania", underlines Liviu Staniloiu, Managing Director of SWARCO TRAFFIC ROMANIA.
The largest contract refers to Piatra Neamț in the north-east of Romania. "As the system integrator, we are going to implement an intelligent traffic management system including services, technical project elaboration, equipment supply, execution of works, and technical-economic documentation", says Staniloiu. The comand and control center is also part of the order. The urban traffic management and the public transport management functions will be managed using OMNIA and NEXT software platforms. At the intersections, ITC-3 traffic controllers will be installed.
The city of Drobeta in the south-west of Romania is also working on the modernization of its urban mobility set-up. The rehabilitation of the public transport lanes, the streamlining of public transport, the implementation of cycle paths and the development of an intelligent traffic management system are in the focus of this project. SWARCO TRAFFIC ROMANIA acts as consortium leader and system integrator, using the OMNIA and NEXT software platforms and installing ITC-3 traffic controllers. Drobeta is located on the shores of Danube river and features a rich history dating back to the first century after Christ, when the Romans installed the famous Trajan's Bridge, the remnants of which are still visible today.
In Bistrița in the north of Romania, SWARCO acts as a technology provider responsible for the set-up of a public transport focused traffic management systems. The purpose there is to create a Green Public Transport Line using electric, hybrid or low pollution means of transport, managed by the OMNIA software platform.