SWARCO takes over road marking contractor Eisenschutzgesellschaft m.b.H.
The traffic technology group SWARCO, based in Wattens, Tyrol, looks back on more than five decades of unique triple know-how in the production of micro glass beads and road marking materials as well as the professional application of the markings on our roads. Now SWARCO is further expanding its position in the road marking contracting sector in Austria and, subject to approval by the competition authorities, is taking over Eisenschutzgesellschaft m.b.H., based in Wienersdorf near Traiskirchen, which previously belonged to PORR Bau GmbH.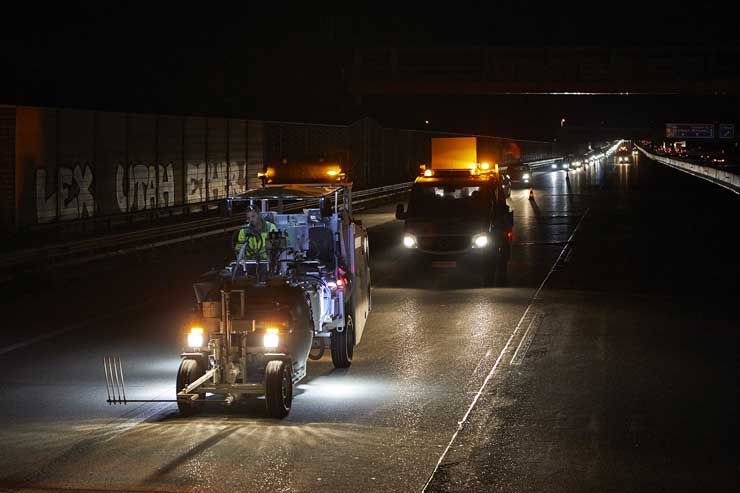 "Already since the early 1970s, we have been successfully known with SWARCO HEOSCONT as a guarantor for road safety through high-quality road markings in Austria," says SWARCO speaker of the Board and COO Michael Schuch. "We are pleased to be able to be present throughout Austria together with our new colleagues and to make Austria's roads the best-marked in Europe with our market-leading reflective glass beads and marking systems."

"The Eisenschutz company is characterised by its highly qualified as well as dedicated employees and state-of-the-art equipment. The company is a leading specialist for road marking work in Austria. With the takeover by SWARCO, Eisenschutzgesellschaft m.b.H. is optimally positioned due to the direct supply of materials. We look forward to continued good cooperation and would like to thank the staff for their decades of outstanding performance," comments PORR-Bau Managing Director Kurt Lackner on this transaction.

"With this step we are underpinning our claim to provide even more roads in Austria, both in and out of town, with the best marking systems in order to offer road users optimum orientation and safety by day and night and in wet conditions. A total of 150 marking experts in our group in Austria now contribute to more safety on the streets and roads in our country," affirms Harald Mosböck, Vice President Road Marking Systems of SWARCO AG and member of European expert committees and associations on road markings. At the same time, he points out the important role of high-quality markings as indispensable orientation lines for "reading the roads" by modern driver assistance systems.