SWARCO Named as Charging & Re-fuelling Infrastructure Provider of the Year
SWARCO Smart Charging has been hailed as the Charging & Re-fuelling Infrastructure Provider of the Year at the prestigious GREENFLEET
Awards
The ceremony, which was held on 1 December 2021 at the British Motor Museum in Warwick, celebrates environmental excellence in the fleet and transport sector, recognising innovation and progress from fleets themselves, as well as those – like SWARCO Smart Charging – who supply them.
This industry recognition for SWARCO Smart Charging, which is one of the UK's leading providers of electric vehicle charging infrastructure and smart charging solutions, follows similar success in 2018 when SWARCO was also named Charging & Re-fuelling Infrastructure Provider of the Year.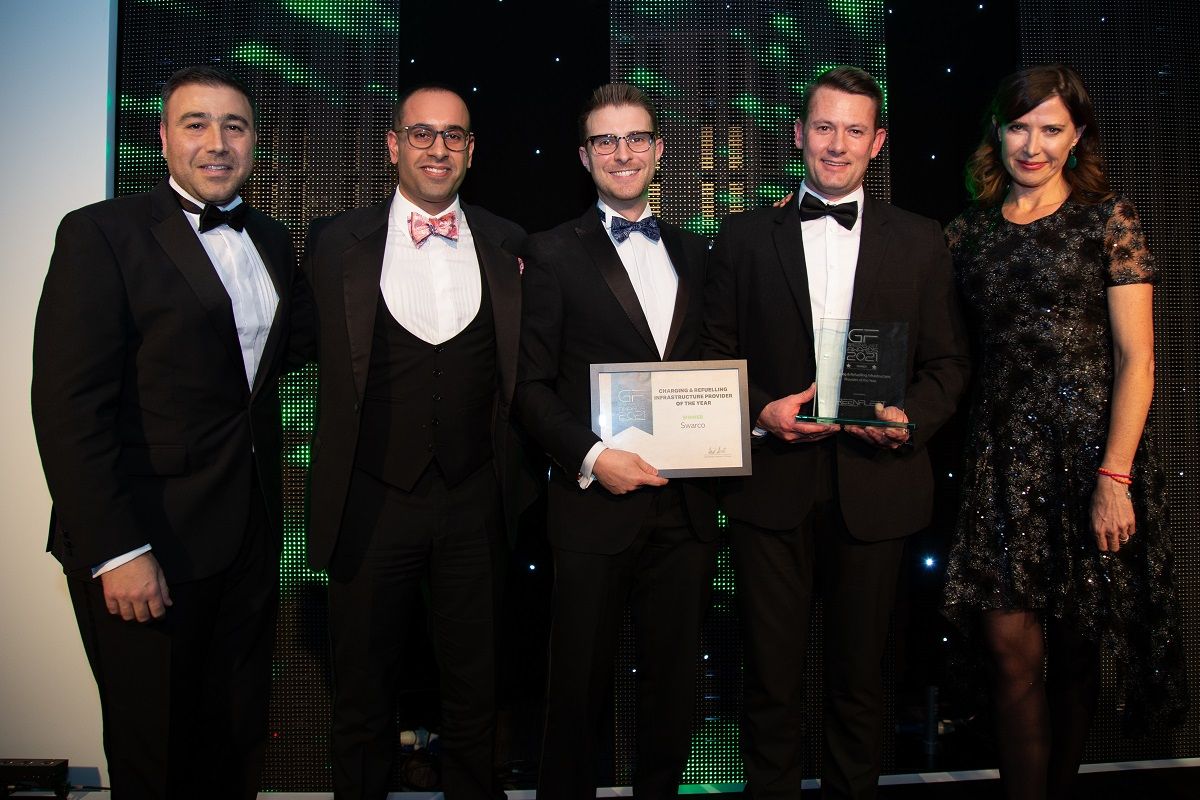 This category recognises the efforts of vehicle charging and refuelling infrastructure providers and the progress made in rolling out low carbon infrastructure across the UK. SWARCO Smart Charging's win is attributed to its ongoing commitment to supporting the expansion of electric vehicle (EV) charging networks that directly benefit fleet drivers.
Justin Meyer, Managing Director of SWARCO Smart Charging is delighted to see the efforts of his team and the results of its successful partnerships rewarded: "We are immensely proud to be working with those who are at the forefront of cutting transport emissions, and who share our passion for growing the right kind of EV charging networks that support fleets up and down the UK. Decarbonising transport is a collective effort, and I am pleased to see the work of our growing team recognised at an industry level and to be named as GreenFleet's Charging & Re-fuelling Infrastructure Provider of the Year.
"We were one of the first infrastructure providers to the market in the UK," he says, "and our growing team embodies the same drive and enthusiasm as it did from the very start. 2021 marked a new era for us with substantial new investment in both our team and the development and expansion of our proprietary technology and charging solutions. So we are delighted to have won this award for our work this year and very much look forward to 2022 with even more successful projects on the horizon."
SWARCO's successful projects in 2021 have included the completion of project PACE – a joint Lanarkshire and Scottish Power Energy Network's (SPEN) project which adopted a new, innovative funding mechanism to rapidly deliver charging hubs in urban and rural communities and triple the charger availability in North and South Lanarkshire. Each hub is strategically placed to provide access for all including commuters fleet operators and residents.
SWARCO continues to support the E-Bus sector, with deployment of a cost-effective solution for charging and managing 32 fully electric double-decker E-Buses operating on Manchester City centre routes. The SWARCO solution supports the E-Bus fleet to carry out two key high frequency services connecting Manchester city centre, Manchester Airport, five hospitals and two universities – saving 920,000 litres of diesel a year and reducing annual CO2 emissions by 2,400 tonnes.
Having been appointed technology provider for the rapidly expanding Motor Fuel Group network, over the course of 2021, SWARCO is deploying over 200 150kW ultra-rapid chargers. SWARCO is also working for Transport for Wales and Welsh Councils to install charging infrastructure on multiple projects to help develop the strategic road network or Transport for Wales, a rapid charger hub for Carmarthenshire, and rapid chargers for the Cardiff City Region supporting EV Taxis. Similarly, SWARCO Smart Charging and Transport North East have gone live this year with a network targeted at the taxi and private hire market, taking into account extensive research into vehicle dwell times and the most popular pick-up locations. Other significant projects have included SWARCO Smart Charging solutions in Cambridge and Kent.
2021 has also been the year that SWARCO successfully completed what is globally the largest ever EV charging network migration, taking over management of the ChargePlace Scotland network in July. The extensive network includes 2,650 charging stations, 350 hosts and eight technology suppliers and the new dedicated ChargePlace Scotland team, which has been set up in Dundee, continues to make significant improvement in performance of the network and the driver satisfaction rating.
SWARCO Smart Charging has more than 8,500 commercial charge points installed across the UK.


Want to know more about our Smart Charging solutions?