Highly accurate and flexible Variable Messaging Signs (VMS) from SWARCO Traffic, the traffic technology specialist, have reached a 10-year milestone in helping Reading Borough Council to reduce congestion, improve traffic flow and enhance the driver experience throughout the town.
In 2012, the Council issued a tendering and procurement process to source high quality and versatile signage to help deliver effective traffic management. "As with any local authority, budget restrictions and funding are always a major challenge, so although cost was important, what was more important was a fit-for-purpose solution – highly reliable, durable and flexible signage," says Lyndon George, Traffic Signal Engineer at Reading Borough Council.
"We previously had two types of signs installed, the town centre had roll-over parking guidance and the main roads in to Reading had Variable Message Signs with 4 lines of 12 characters. Both variants were very restrictive in functionality, only allowing the option to display parking info, OPEN, SPACES or CLOSED for the town's car parks, and the main road's VMS were limited in both lines and characters. With very limited use, these signs were performing poorly with faults reappearing continually. Additionally, both proactive and reactive maintenance came at a high cost and slow repair times due to the complexed builds and poorly designed access to the signs."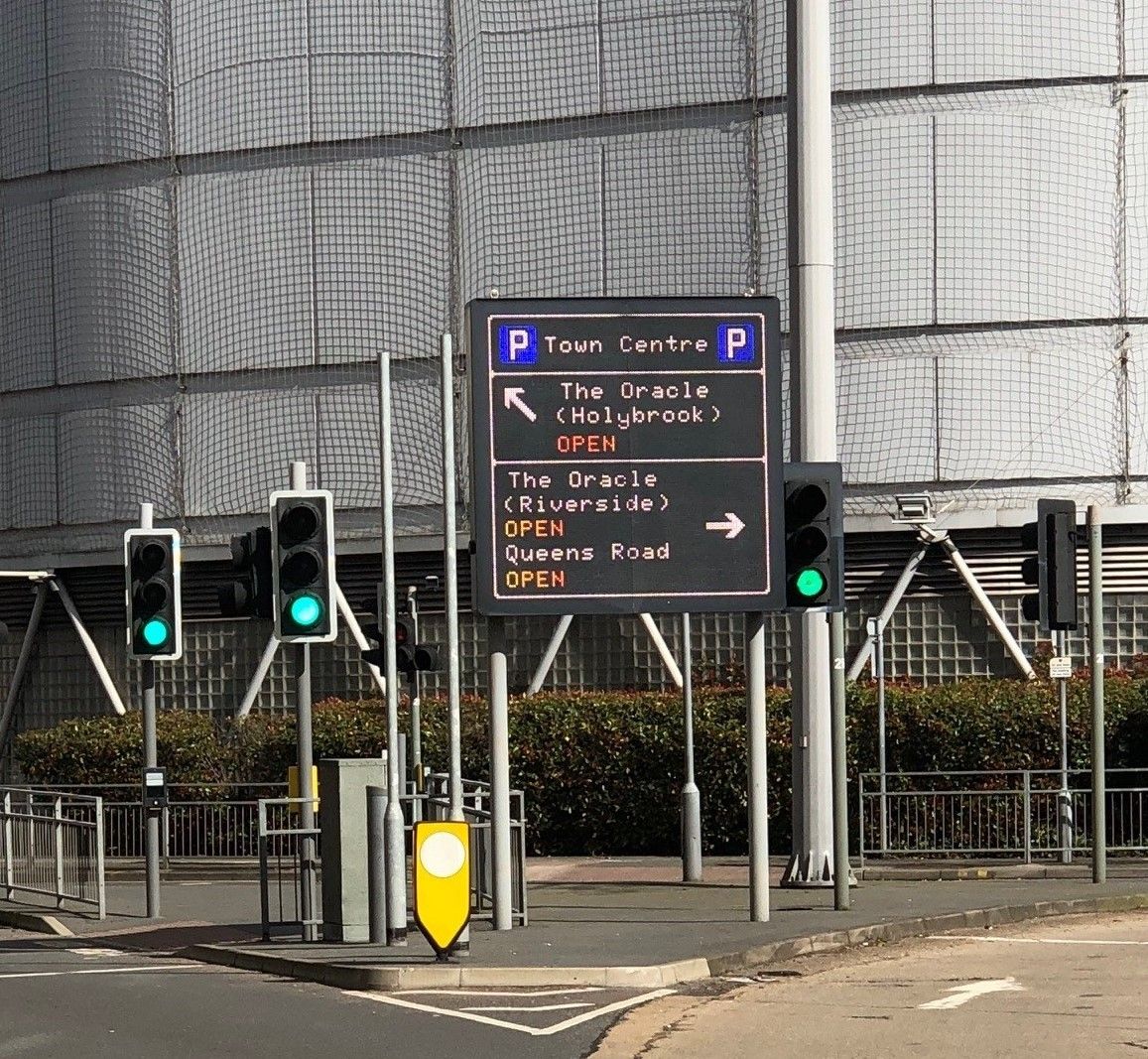 After a thorough procurement process the Council agreed on SWARCO Traffic and sought guidance. Following factory testing at the organisation's main headquarters and facility in Austria, together we were able to create a solution based on the very latest thinking and smart technologies and forward thinking with adding a line and 3 characters improved the VMS. "From the testing performance it was clear to me that SWARCO's VMS were extremely flexible, high quality and very maintainable," Lyndon continues.
SWARCO quickly identified our need for versatile signage that would improve how we used them to perform multiple tasks, not just parking in the town and VMS on its outskirts. SWARCO installed a total of 27 full colour VMS and 1 PGIS in strategic locations throughout Reading. All signs are currently being managed by SWARCO's Zephyr control system and it is hoped this will move to SWARCO's new end to end Mobility Management Platform, MyCity soon.
The signs can be utilised to display any pictogram, text, or a combination of both and can therefore be used for multiple purposes, for example to provide the latest car park and availability and live information in town as well as the outskirts, traffic flow information or to advise drivers of better routes, any emergencies, events, or road closures which improve the quality of their journey which was not possible before.
By using SWARCO's control system, Reading is offered the compatibility they currently require and a vision to what Reading may require as we move forward.
"Since we purchased and installed the signs 10 years ago, we have not needed to replace any sign due to failure, but we have bought more units as the reliability and versatility of the signs has been so good and with such very low maintenance, I expect to retire before we retire the signs," Lyndon adds. "Amazingly the LEDs are still as bright now as they were then! We have had very few faults, which most were power to and not the sign and when we have had issues, SWARCO have been very quick to address these. In comparison to the previous signs, we have been able to improve how we use them, reduce the running and maintenance costs, which is extremely important given tight budgets and increased scrutiny over authority spending and our carbon footprint.
"Ultimately, SWARCO delivered exactly what they promised, a simple and hugely effective solution, and the high-quality performance of the signs over 10 years highlights value for money."