New parking guidance in Karlstad, Sweden
In June all of the new parking signs in Karlstad were activated. The signs will help tourists and citizens of Karlstad to easily and comfortably find a place to park, already as they are getting off the highway

.


"The project has been great in so many ways. Search traffic and congestion will be reduced; people will be able to plan where to drive, and this will also show that there are actually available spots", says Henrik Lindblom, chairman of Karlstads Parkering AB to Värmland Folkblad.


In total 31 digital signs are installed all over the city. 19 of the signs are showing the direction to the available spots, while the rest are directly connected to the parking areas in the city. As Karlstad is a regional capital, receiving visitors and tourists in a good way is quite important, and an essential part in this is making navigation in traffic and parking more convenient and stress-free.


Good project for citizens and tourists
Especially if you are new to a city, you will feel more welcome if you get helpful services and guidance. Citizens and retailers will also benefit from guidance since the system shows that there ARE available parking spots. Spots which people normally would not find.
"We have always known that there are places to park, and we have also realized that the drivers' dissatisfaction actually came from not being able to find those parking places", says Mr. Lindblom.
Instead of people driving around in frustration, they can use their valuable time doing what they came there for.
Would you like to know more about the parking guidance solution?
Read more about our parking guidance solutions:


Link to article in Värmlands Blad
(subscribtion only and the text is in Swedish).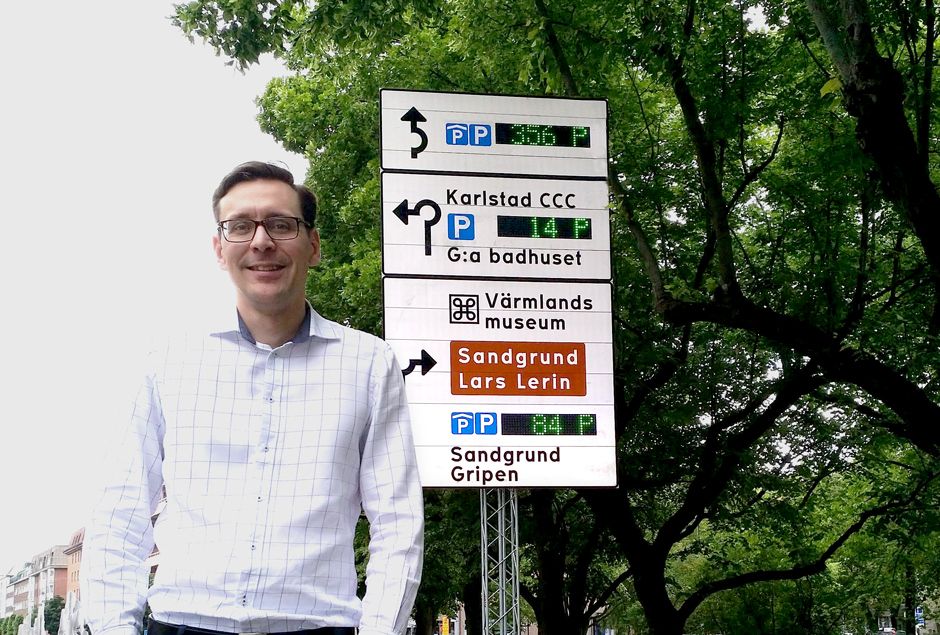 Image: Nils Iverlund, SWARCO, showing one of the installed parking guidance signs.
"The project has been great in so many ways. Search traffic and congestion will be reduced; people will be able to plan where to drive, and this will also show that there are actually available spots"
- Henrik Lindblom, chairman of Karlstads Parkering AB to Värmland Folkblad