Multi-vehicle charging hubs are the future for commercial transport
Plans being developed to open up electric bus charging sites to allow businesses to charge their electric vehicles (EVs) would help accelerate the UK's transition to low carbon transport, according to energy industry leader SSE and leading EV charging business SWARCO Smart Charging.
The idea was highlighted at Sharston bus depot in Greater Manchester which received a visit from the COP26-branded electric bus on the Road to Renewables tour which sees the bus visiting the UK's green energy and sustainable transport projects in the run up to the COP26 climate summit on 1 November. A COP26-branded electric bus drew up at the Sharston charging points alongside other commercial vehicles including a refuse collection vehicle and a car. The concept is that while buses are busy working the streets during the day, sites could be made available during daytime hours for other businesses who wish to charge their electric vehicles.
The Sharston site is used by Stagecoach, the UK's biggest bus and coach operator, and features 32 electric vehicle charging stations, making it the first sizeable EV bus charging depot in England outside London. It is home to the region's first double-decker electric bus fleet which is estimated to save over 2,200 tonnes of carbon a year. Stagecoach operates a fleet of clean, green buses across Greater Manchester.
SSE Energy Solutions and SWARCO Smart Charging are currently looking at a number of opportunities around the UK to equip bus depots with EV charging facilities which could then be made available for use by local business fleets.
Kevin Welstead, EV Sector Director for SSE Energy Solutions, said:
"SSE Energy Solutions are working with Stagecoach and SWARCO on a number of sites across the UK, utilising our range of services to provide the optimal electrical infrastructure for each depot. We look forward to continuing to develop these relationships by building on our existing successes, and by working together for a green future for all modes of transport. By focussing on interoperability of chargers for electric vehicles across the network and efficient use of assets we can work together to benefit more electric vehicle users and support the nationwide transition to zero emission vehicles."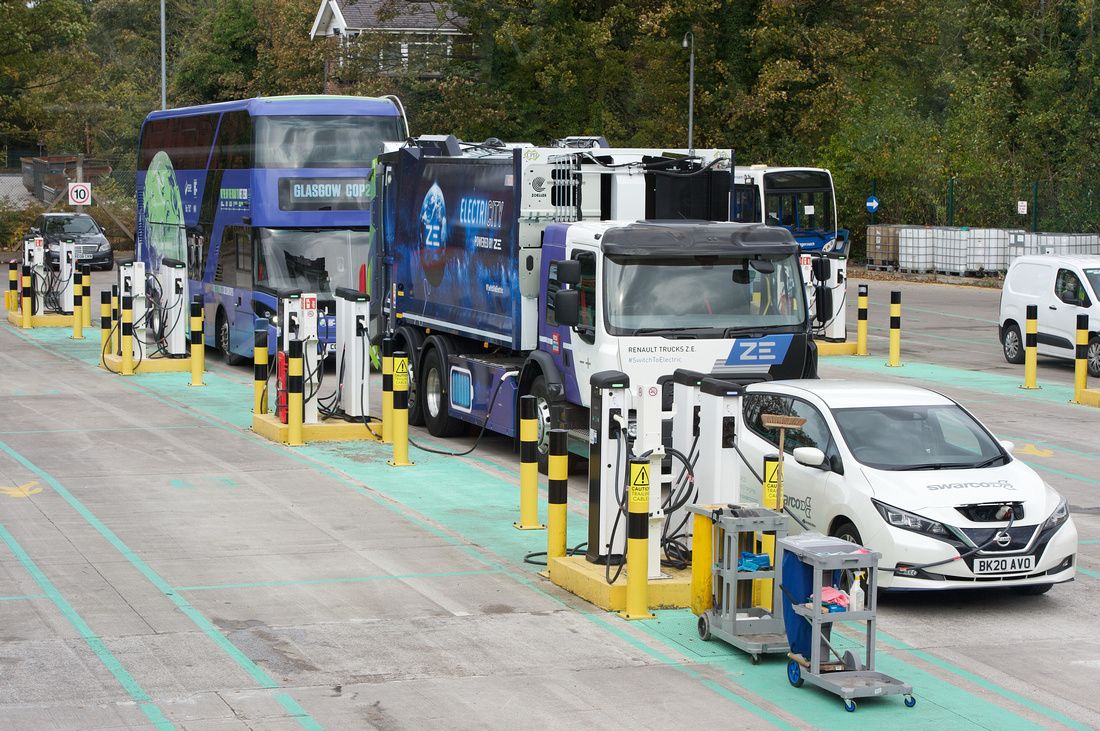 Justin Meyer, Managing Director at SWARCO Smart Charging, said:
"SWARCO is delighted to be working with SSE and others to help build a greener future for the UK transport needs. The idea of shared charging sites is being actively explored at a number of locations, to make best use of the charging assets we supply. This will undoubtedly help in the journey to net zero."
Carla Stockton-Jones, Stagecoach UK Managing Director, said:
"This is yet another step forward in reaching our target for a net zero bus fleet across the UK by 2035, backed up by our new sustainability strategy. Achieving net zero is about far more than switching technology. We need to change how we live, making less use of cars and switching to more sustainable public transport, cycling and walking. This along with what we have set out in our strategy is vital if we are to meet the objectives of COP 26.
"Maximising the benefit of investment in electric charging infrastructure by making facilities available to other fleet users, such as logistics companies, could help accelerate decarbonisation. This would complement the wider opportunities to cut carbon emissions and reduce local air pollution.

"We are extremely proud to be working with SSE and SWARCO and look forward to developing these relationships further to meet our shared goal of net zero."
Buses can be fully charged at sites such as Sharston in just a few hours. The Sharston depot also has a large solar array on the roof, generating renewable energy for the site to complement its grid connection.
The visit to the Sharston bus depot comes as SSE Energy Solutions works with Stagecoach in England to support their business cases for ZEBRA (Zero Emission Bus Regional Area) funding from the UK government.
Meanwhile in Scotland, SSE Energy Solutions has been working with Stagecoach to use SULEBS (Scottish Ultra Low Emission Bus Scheme) funding from the Scottish government. This is enabling SSE to install charging stations at Aberdeen and Perth bus depots, using chargers from SWARCO Smart Charging. Work starts on site at Perth this month (October) to install five chargers serving ten bus bays, and at Aberdeen next month (November) to install 11 chargers serving 22 buses, along with a single charger for 'opportunity charging' at the local bus station.
SSE is a major partner at COP26; and alongside the Go-Ahead group, Alexander Dennis, BYD and SWARCO Smart Charging is using an EV bus tour to showcase examples of the national effort already underway to decarbonise energy and transport.