Groundbreaking ceremony for the "Manfred Swarovski Global Glass Beads Technology Center"
50 years after its foundation, SWARCO is marking yet another milestone in the company's history in Amstetten.
Austrian traffic technology company SWARCO is building a new Global Glass Beads Technology Center.
The investment will secure some 70 jobs in and around Amstetten.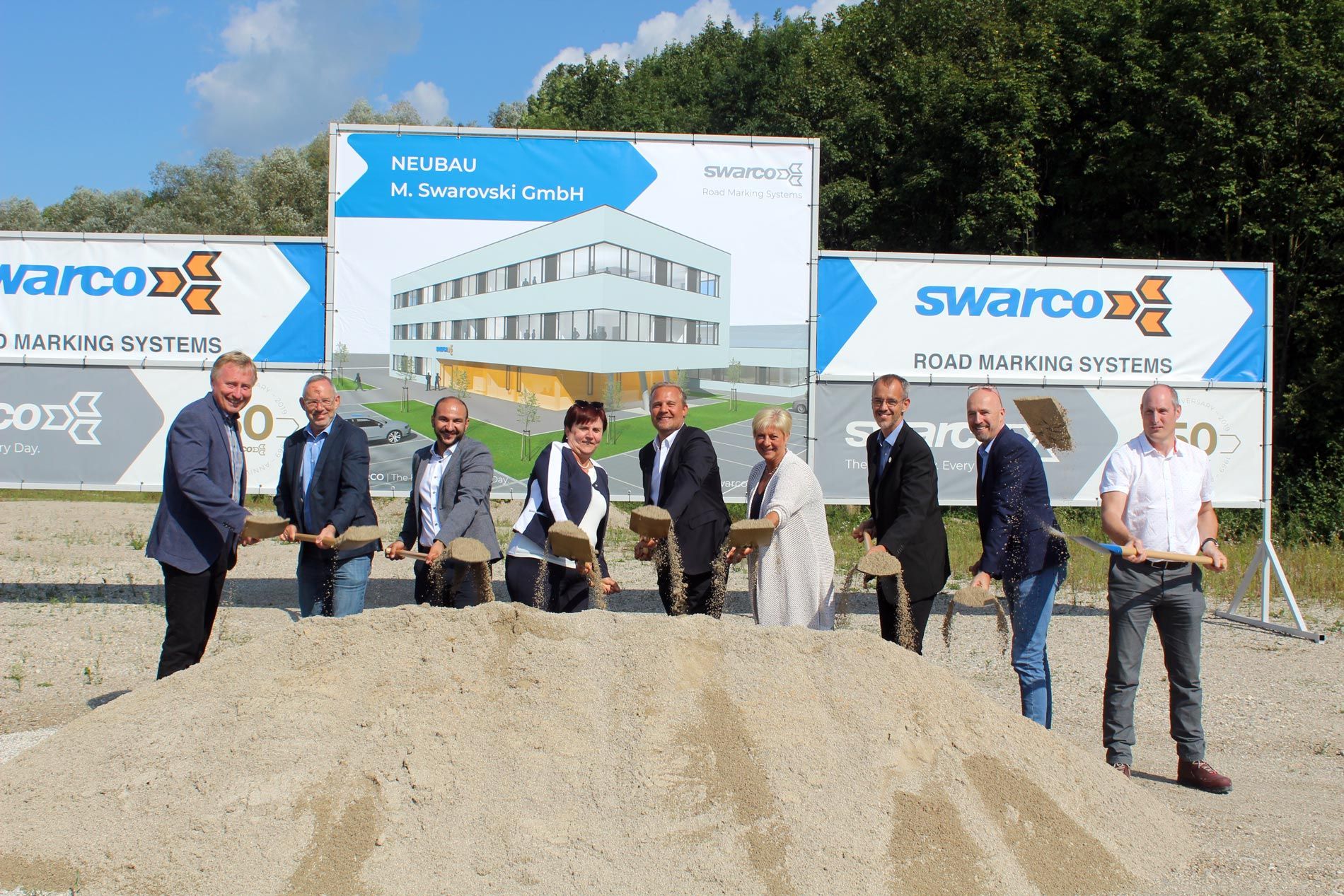 Groundbreaking Ceremony "Global Glass Beads Technology Center Manfred Swarovski"

f.l.: Koloman Riedler (Riedler Kies und Bau GmbH), Dipl.-Ing. Manfred Heigl (Regional Building Authority), Andreas Illich (Plant Manager M. Swarovski GmbH), Mayor Michaela Hinterholzer (Member of the State Parliament and Councillor of Commerce), Philipp Swarovski (COO Road Marking Systems Division), Mayor Ursula Puchebner, Peter Tomazic (Managing Director M. Swarovski GmbH), Harald Mosböck (Head of Sales Road Marking Systems Division), Master Builder Markus Schnabl (PSB Planung-Statik-Bauleitungs GmbH)
Picture: Grubner/NÖN
Amstetten, 3 September 2019 – In 1969, Manfred Swarovski laid the foundations for a success story "made in Austria" with the construction of a glass bead factory in Amstetten. Over the next five decades, the SWARCO Group developed from this base and today employs around 3,800 people. The groundbreaking ceremony for the "Manfred Swarovski Global Glass Beads Technology Centre" on 3 September 2019 marked the beginning of a new chapter in the SWARCO story.
Competence centre for glass technology relating to road safety
"We are quite deliberately taking this historical step once again in Amstetten, in Austria, in Europe. Our new plant will be a centre of excellence with state-of-the-art technologies. Here we are installing the SWARCO-wide centre for glass technology relating to road safety. SWARCO will help shape the future of automated driving with optimum guidance systems on the road – with extremely competitive products worldwide. In addition, new development opportunities are opening up for us in the non-traffic sector," emphasises Philipp Swarovski, Chief Operating Officer (COO) of SWARCO Road Marking Systems.

Amstetten – a convincing location
Apart the company's roots, several compelling arguments speak in favour of Amstetten as a business location. Among other aspects, Amstetten scores highly with its central position between Linz, Vienna and Sankt Pölten, as well as with very good transport links. In the scenically delightful Mostviertel region, SWARCO employees benefit not only from numerous attractive recreational opportunities, but also from a well-developed infrastructure in terms of health provision and education.
Corporate Data
Quality products and services from SWARCO Road Marking Systems guide traffic safely from A to B by day and, above all, by night. On all types of road. Whatever the weather. From a single source. Over 5000 customers in more than 80 countries place their trust in them.
Further Information at: SWARCO Road Marking Systems