EUROTHERM® Art Project
EUROTHERM® Preformed Thermoplastic was used in a German Art Project to Honor Jeanette Wolf.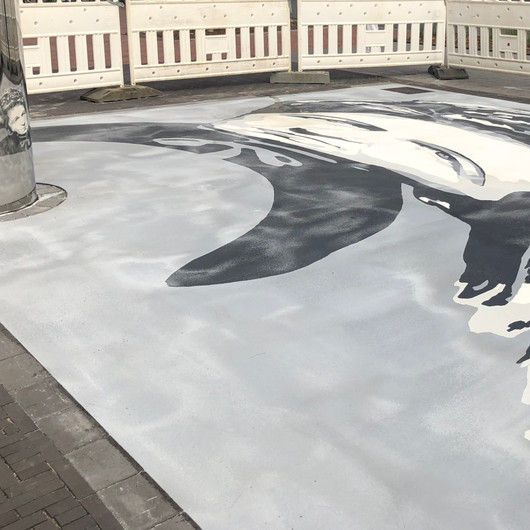 The city of Dinslaken made a call to artists throughout Germany, to create a memorial for Jeanette Wolff (22 June 1888 – 19 May 1976). Steffi Schöne convinced the expert panel and prevailed with her design against 51 competitors.
Social justice, reconciliation, peace, gender equality and democratic coexistence are the values of the significant woman Jeanette Wolff, after whom the square is named. With her unusual concept, artist Steffi Schöne gives the visitors the possibility to meet the former politician.
With the help of the prefabricated thermoplastic EUROTHERM®, the artist created a distorted image of Jeanette Wolff. With the mirror-polished pillar made out of stainless steel in their vision, viewers can experience the seven times six meter portrait from a wide range of different angles. Thanks to the versatility of EUROTHERM®, this art installation is going to amaze many interested people.
SWARCO ROAD MARKING SYSTEMS accompanied and supported this project with EUROTHERM®.