SWARCO eVolt secures contracts with Engenie and Forev at LCV-CENEX
SWARCO eVolt has announced the first order from electric vehicle (EV) charging network Engenie for 150kW ultra-rapid charging points intended for their expanding UK network. The order was placed and confirmed at the Cenex Low Carbon Vehicle (LCV) Event on the 5th of September.
At the same event, a new programme with Forev has been agreed. The Scottish-based EV charging infrastructure provider has selected SWARCO eVolt to provide the technology and service support to help Forev create a network of fast/rapid EV chargers throughout Scotland.

The new order with Engenie follows the supply partnership deal signed last year between the two parties for 500 of SWARCO eVolt's Raption 50kW units. Since then, Engenie has secured additional investment and now plans to broaden its charging network further, aiming for 2,000 rapid charging points across the UK by 2024. This will double the total number of rapid charge points currently in the UK.
Ian Johnston, CEO of Engenie, says the £35million of investment will fund the deployment of over 2,000 rapid and ultra-rapid charging points across the UK:
"The first 100 are already being installed at Marston's pubs, M7 retail parks and into Cardiff City centre over the course of this year," he explains, "and the new 150kW charging points will help us build our network of reliable and user-friendly technology to support drivers across the UK."
Justin Meyer, General Manager of SWARCO eVolt says that the partnership with Engenie continues to make a real difference to the accessibility of charging for drivers on UK roads.
"They are an inspiring business to work with, backed by a passionate team determined to make a difference," he adds.
The 150kW Raption charger has a power cabinet and a separate slimline kiosk with either one or two DC connectors that can simultaneously charge two vehicles. The separate power cabinet can be installed away from the kiosk to make best use of the designated charging area. SWARCO eVolt is responding to increasing interest from network, fleet and transport operators who are looking to include ultra-rapid units to meet the needs of new generation EVs (cars, commercial vehicles, eTrucks and eBuses). The Raption 150kW is slim yet robust, and ideal for any type of site, whether it's a public access environment or a private one where vehicles need an ultra-rapid charge to continue their journey.
The Raption 150kW has contactless payment functionality (both bank card and RFID) and also incorporates an 8" LED touchscreen that can be used for additional revenue generation through targeted advertising.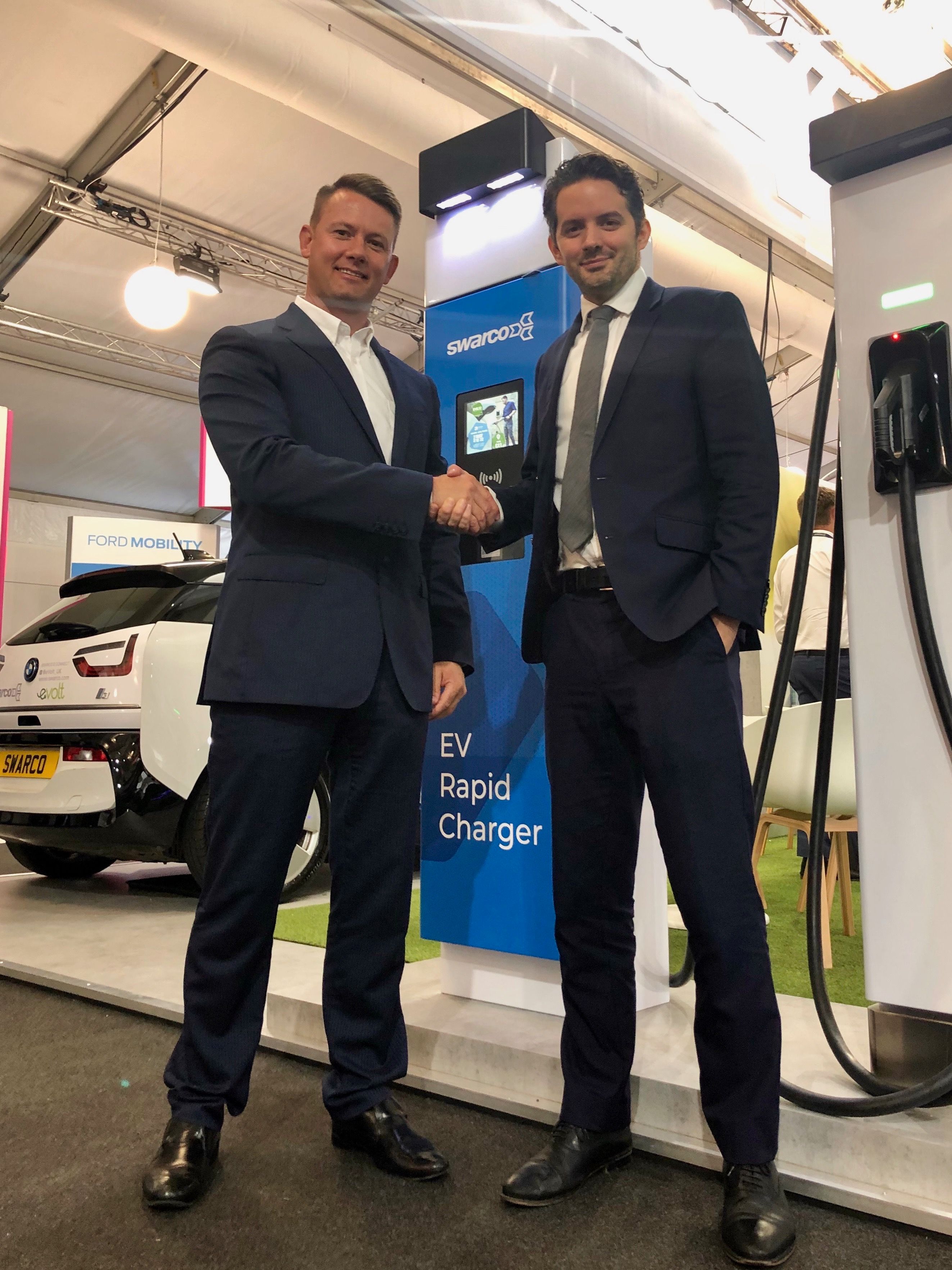 Forev appoints eVolt for building a network of rapid charging across Scotland
Meanwhile SWARCO eVolt has also agreed a new programme with Forev, the Scottish-based EV charging infrastructure provider, to provide the technology and service support to help Forev create a network of fast/rapid EV chargers throughout Scotland.
Forev is a new business, led by CEO and founder Lindsay Wallace, committed to making the Scottish EV dream a fully charged reality. Its aspiration is to own, operate and maintain a network of charging points that supports the accelerated adoption of EVs in the country and overcomes the hurdle of range anxiety. The business will only use 100% accredited clean energy.
Lindsay says that with more than 45% of the population in Scotland not having access to home charging, installing fast chargers on busy public sites is the best solution: "To deliver a viable charging infrastructure, we needed to find a technology partner with a broad range of charging points to meet different vehicle needs and whose hardware is already proven," he explains.

"SWARCO eVolt gives us all of this and more. It has the largest share of the Scottish EV charging market and is highly regarded by the Energy Saving Trust and Transport Scotland, as well as existing EV owners. As well as providing the technology, SWARCO eVolt will also provide the service and maintenance support to guarantee a >98% uptime and use E.Connect, its back office operating system to monitor their equipment 24/7.''

SWARCO eVolt's technology ranges from lamp post charging and 7kW AC chargers through to the dual outlet 22kW and 50kW chargers offered through the Forev network. It also includes 150kW+ rapid chargers to meet the need of a diverse range of EV cars, taxis, buses and larger vehicles.
Latest technology includes digital display screens (providing advertising and promotional opportunities as well as customer information) and contactless payment functionality, as well as a DC/AC controller and receiver solution - a cost-effective multiple charging solution enabling several charge points to be controlled by a single unit.
Justin Meyer, General Manager of SWARCO Evolt, says he is excited by the new agreement with Forev:
"Lindsay and his experienced team have an exciting vision for the future and we are pleased to be playing our part in helping them achieve their ambition. Reliability is a key element of customer service and the customer experience, and the feedback from Scottish drivers to our technology is already exceptional."
The Scottish Government committed to phasing out the need for fossil-fuelled cars in Scotland by 2032.