TOUCH SOUND
One Design - Multiple Features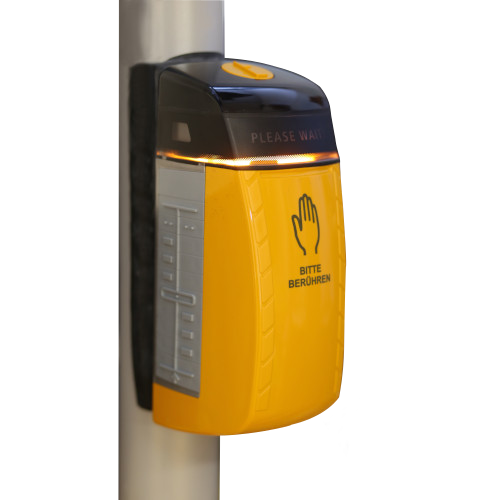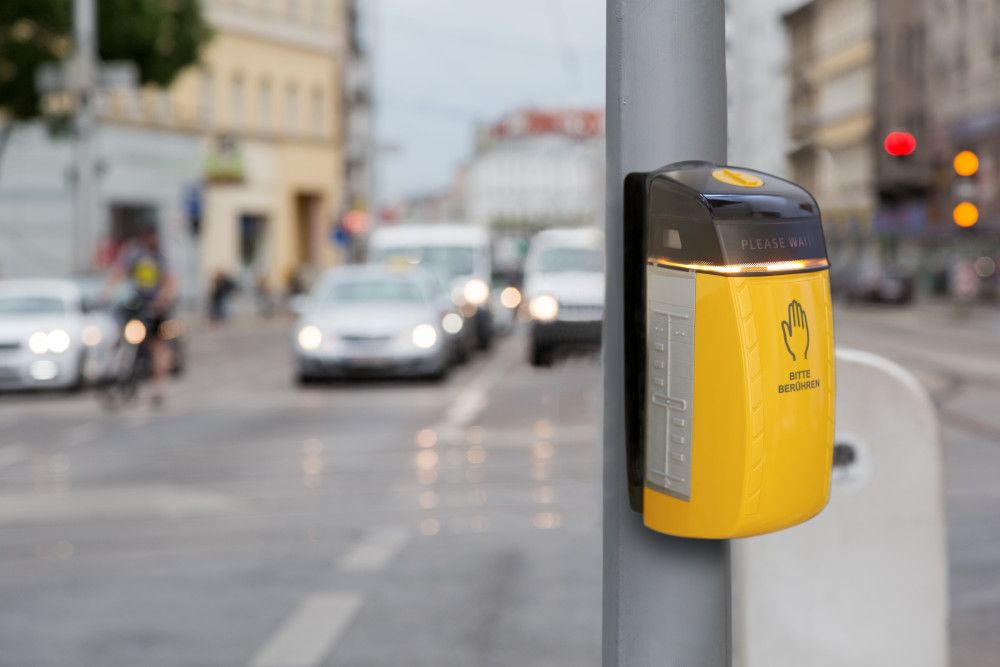 TOUCH SOUND is an "all in one" solution with integrated acoustic features.
With the App LOC.id (or user device with rotary switch), an authorized person (visually impaired or blind) can request the green phase on the TOUCH SOUND without further actuation and without the need to touch the push button. Therefore any risk of infection by bacteria and viruses is reduced to a minimum without restricting the freedom of movement of blind or visually impaired persons.
Furthermore the pedestrian can also request the green phase via an innovative touch key and a covered push button at the bottom lid for visually impaired persons. The different phases of the traffic light are indicated via LED, integrated loudspeaker and vibration. The push button can be fitted with laterally applied braille symbols, which inform the visually impaired about the course of the walkway. In addition, arrow signs at the bottom lid show the direction of the walkway.


Sound and Volume Adjustment​​​​
Tactile Symbols for
Visually Impaired
modular construction allows adaption to all kinds of intersections
one design for the whole city, independent of different functions of each intersection
no movable parts that can be manipulated
resistant against vandalism due to a strong polycarbonate body with an integrated metal core profile
laterally applied tactile symbols for describing the crossing for the visually impaired
localisation of the push button due to acoustic and optical position signal (LED-ring)
meets all the requirements of current guidelines and regulations (RiLSA, DIN 32981, DIN VDE 0832, EN 50293) – tested by TÜV Rheinland
sound and volume adjustment using an integrated microphone to adhere to local regulations
parameters: either with Infrared interface or wired programming
Type

AS

ASL

ASLC

ASLTC

ATC

AC

A

Integrated loudspeaker + microphone

x

x

x

x

x

x

S

Capacitive sensor (no moving parts)

x

x

x

x






L

Optical position signal (LED- ring) and LED confirmation text (response frame)




x

x

x







C

Covered button for visually impaired – arrow shows the direction of the walkway






x

x

x

x

T

Tactile signal in the covered unit (vibration)










x

x



Material, housing

UV-stabilised polycarbonate, metal core profile

Housing colour options

yellow, blue, black

Dimensions (h x w x d)

254 x 105 x 107 mm

Power supply options

230 V AC +10%/-13%, 40 V AC +10%/-13%,

others on request

50 Hz

Power consumption (typical)

230 V AC: 10 W

40 V AC: 7 W

Temperature range (operation)

-40°C to +60°C

Ingress protection

water- and dust-proof (IP55)
Protection Class II
IR3 acc. EN 12368
IK09 acc. IEC 62208/IEC 62262

Sound

different sound functions are available, all settings can be done via handheld device in a quick and easy way

Weight

1.7 kg

Mounting

to be installed on a round pole (Ø min. 90 mm) or on a plane surface; with wiring inside the pole

Colours for LED-text message and LED-position ring

red text / yellow ring

white text / yellow ring

yellow text / white ring

Housing-symbols




hand, bike, blind-sign

(others on request)

Sound

more than 19 different sound options available

Volume

30-90 dB(A)

additional loudspeaker necessary: according to regional requirements