HAZARD WARNING SIGNS
Warn Drivers of the Hazards Ahead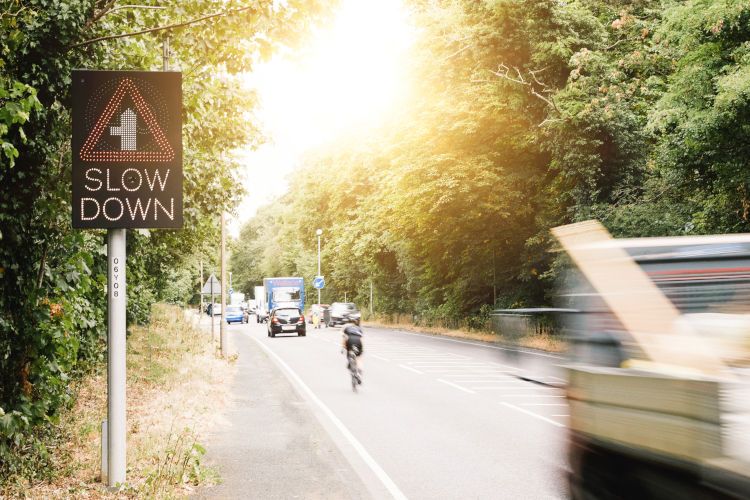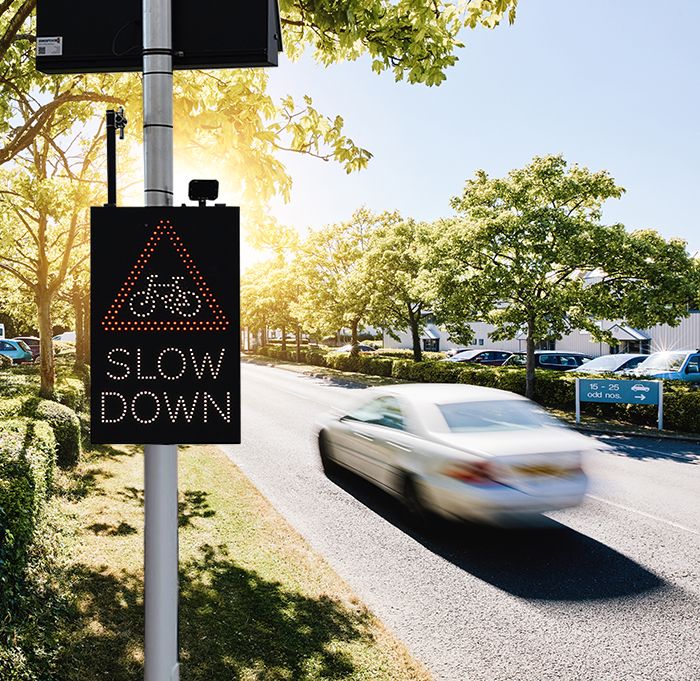 Improve safety on the roads by guiding the traveller on their journey using SWARCO's Hazard Warning Solution Signs. SWARCO's range of Hazard warning signs are ideally suited to mitigate hazards on the road. Our expert design capabilities provide the solution for any situation. Recent major implementations include;
Queue Warning
Turning Traffic
Pedestrian in road
Hazardous bend
Adverse camber
Flooding
High winds
Ice/Snow
Schools
Activation can be via vehicle detection, weather monitor or direct from a local authority control centre, providing a fully bespoke solution to suit your needs. Using our over 30 years worth of experience in this area, we are happy to offer advice on schemes and best practice solutions for accident-reduction.

Features of our products include live information from your sign including the number of activations and a status report on power, communication and fault detection to ensure safety critical signs are always in optimum condition. All of which can be accessed remotely using SWARCO's Zephyr software.
High Energy-
Efficiency​​​​
Conforms to all relevant standards
Various
Options & Bespoke Designs
Benefits of SWARCO's Hazard Warning Signs:
Improved safety on the roads by guiding the traveller on their journey
Able to inform drivers of disruptions ahead allowing drivers to make better informed decisions based on live travel conditions
UTMC compatible
Data logging and remote status monitoring available to ensure safety critical signs are always in optimum condition
15 year design life
Low power consumption using SWARCO's patented LED lens system meaning that solar is a suitable solution, alternatively use mains or switched mains
Automatic dimming to ambient light levels
CE Certified to EN12966, compliant to TSRGD and TOPAS registered
Flood Warning in action
SWARCO installed an intelligent flood warning system to divert drivers away from a busy, low-lying section of a road near Aberystwyth, Powys that is affected by flooding.
The A44 Trunk Road to the east of Aberystwyth is prone to flooding several times a year, both as a result of adverse weather conditions and its close proximity to the Afon Rheidol river.
Working closely with Ymgynghoriaeth Gwynedd Consultancy (YGC) Gwynedd Council's engineering consultancy and in conjunction with both the Welsh Government (Client) and the North and Mid Wales Trunk Road Agent (NMWTRA), SWARCO has designed, supplied and installed a set of four warning signs on the approach roads advising drivers of the flooded road ahead and subsequent diversion route.
The solution is based around SWARCO's bespoke hazard warning signs and an intelligent flood sensor which sends warning messages directly to NMWTRA's traffic monitoring centre in Conwy, informing them when the system has activated and warn the appropriate teams as soon as water levels have risen above a normal level.
John Lister, Senior Project Engineer for YGC, says the new system has significant benefits:

"The previous 'bad weather' procedure of regular inspections and then manually erecting warning signs was far too time consuming. Automated warning signage provides an immediate response to a flood situation.
"From a NMWTRA perspective, engineers can allocate their time more effectively. They can concentrate on other areas, knowing the automated system will activate as soon as there is a flood situation. Once informed, they can inspect and then erect the appropriate traffic management more efficiently."
Derek Williamson, Head of Sales at SWARCO Traffic, says: "Our range of hazard solutions are helping protect drivers in adverse conditions such as high winds and ice, and we have used our proven expertise to design this bespoke system for flood warning environments."

Using technology to protect vulnerable road users
A tailor-made traffic solution from SWARCO Traffic Ltd, is helping to keep cyclists protected on busy country lanes in Bedfordshire, UK.
Central Bedfordshire Council was looking to improve protection for cyclists and encourage safer cycling on its rural roads where there is often limited visibility. It turned to SWARCO to provide the solution who would work alongside Jacobs Engineering.
Paul Wright, Technical Estimator at SWARCO responsible for designing the solution, says: "Jacobs asked us to design a scheme that would detect a cyclist in the lanes and alert motorists to their presence. The lanes leave both cyclists and motorists blind to one another, with high hedges that make it difficult to see the road ahead."
The SWARCO engineered solution uses bespoke Vehicle Activated Signs (VAS) at each end of a defined detection zone, with each zone being around 750m in length. When a cyclist passes into the zone, a signal is sent from an AGD 318 traffic control radar to the VAS at either end of the zone from either direction. The signs illuminate to warn approaching drivers travelling above a pre-set speed threshold that a cyclist is in the area, as well as displaying a warning message advising drivers to reduce their speed.
The solution, which is fully solar powered, enables real time information updates and status reports to be accessed including information on power, communication and fault detection to ensure the safety critical signs remain at optimum capacity.
"This project involved creating a bespoke solution tailored to the needs of Central Bedfordshire Council," Paul continues. "Using our suite of best-in-class products and traffic technologies, we have a created a reliable solution that will help improve driver awareness of vulnerable road users and increase safety for cyclists."