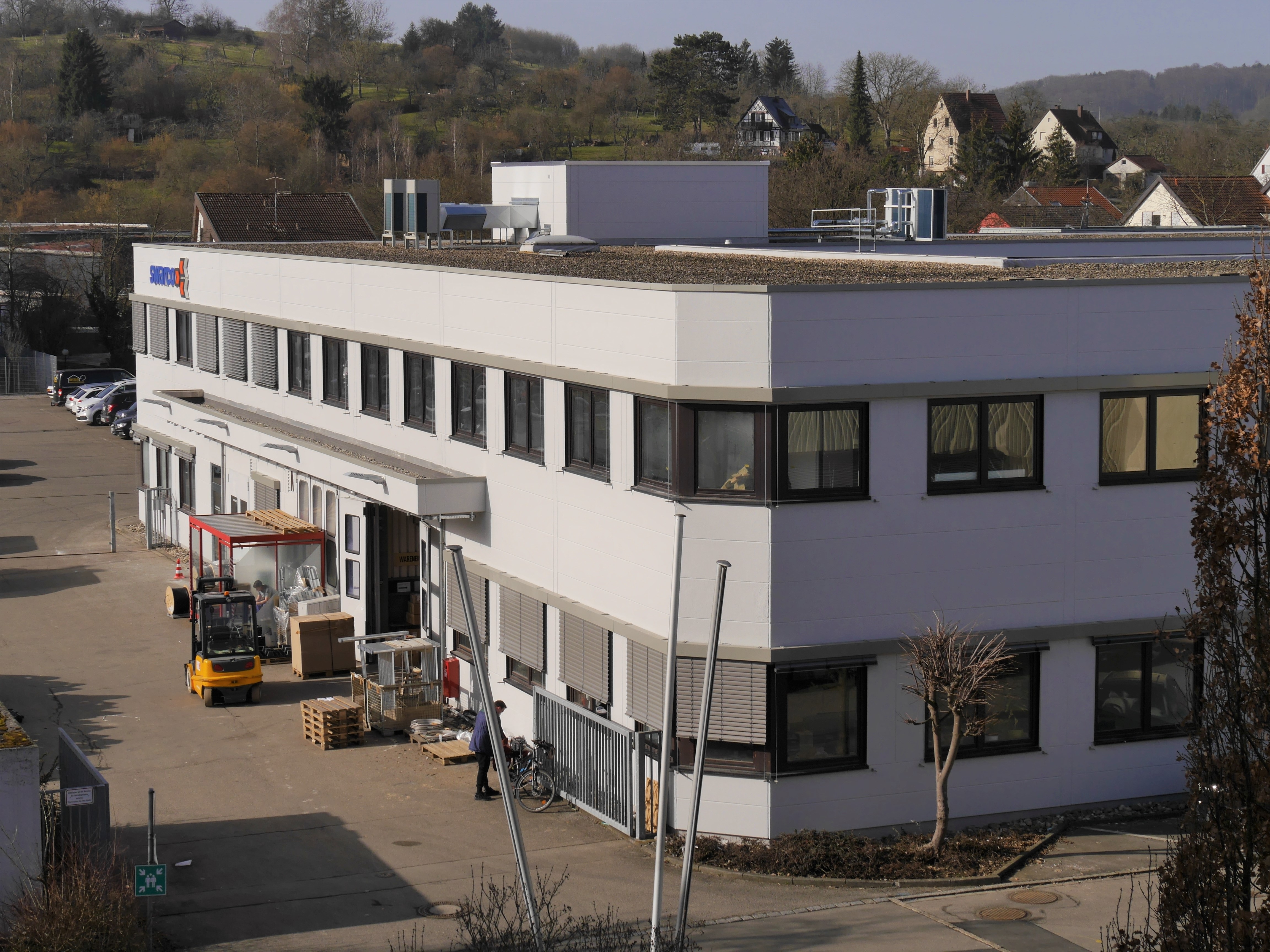 SWARCO TRAFFIC SYSTEMS GmbH
Our largest system integrator
SWARCO TRAFFIC SYSTEMS GmbH is the largest company in the SWARCO Group. The company operates as a system integrator in Germany for traffic light systems and intersection controls, traffic management, highway and tunnel guidance systems, traffic detection, parking guidance systems as well as charging infrastructure for electric vehicles, including associated software development. We are shaping the mobility of the future with solutions for cooperative connected driving, holistic parking and traffic management, electromobility and smart mobility. In doing so, we are changing the way people travel: safely, comfortably, sustainably and efficiently.

Our motivated and highly qualified employees are engaged daily in sales, development, project planning and integration or implementation as well as the service of traffic safety, traffic guidance, parking, detection and information systems as well as electromobility. Proactive, innovative and open-minded, each employee personally ensures that our customers receive solutions tailored to their individual needs, of the highest quality and using the most advanced technology. A nationwide network of service technicians ensures that the traffic systems are ready for operation and well maintained around the clock.

As part of the Austrian SWARCO Group, SWARCO TRAFFIC SYSTEMS GmbH offers a wide range of intelligent products and complete solutions for urban and interurban area. With a strong organisation and the power of a group operating in over 80 countries, we ensure optimal use of road capacity, sustainable use of resources and more efficient, safer and comfortable traffic participation.

SWARCO TRAFFIC SYSTEMS GmbH is based in Unterensingen near Stuttgart and has numerous offices as well as service points throughout Germany.

SWARCO TRAFFIC SYSTEMS GmbH
Kelterstraße 67
72669 Unterensingen
Germany
T. +49 7022 6025 0
Sales Interurban


Interurban Construction
Andre Knautz
Oranier Straße 1
35708 Haiger
Germany
T. +49-2771-2636-0
Sales Urban, Parking & eMobility


Sales Region North / East
Klaus Graze
Sickingenstraße 26 - 28
10553 Berlin / Tiergarten
Germany
T. +49 (0)30 / 924039-18
Bremen Sales Office
Torsten Hellmers
Richard-Dunkel-Straße 120
28199 Bremen
Germany
T. +49 (0)421 / 548 59 91
Dresden Sales Office
Heiko Seidel
Frankenring 6
01723 Kesselsdorf
Germany
T. +49 (0)35 204 / 787-15
Hamburg Sales Office
Michael Latzke
Stadthausbrücke 3
20355 Hamburg
Germany
T. +49 (0)40 / 34 99 49 43
Hannover Office
Torsten Hellmers
Rotenburgerstraße 18
30659 Hannover
Germany
T. +49 (0)511 / 610 186-10
Kiel Sales Office
Michael Latzke
Edisonstraße 9
24145 Kiel
Germany
T. +49 (0)431 / 71802-52
Leipzig Sales Office
Heiko Seidel
Gypsbergstraße 11
04356 Leipzig
Germany
T. +49 (0)341 / 90 996-20
Rostock Sales Office
Eckhard Rybacki
An der Jägerbäk 8
18069 Rostock
Germany
T. +49 (0)381 / 817 272-0
Sales Region West
Frank Steffan
Herner Straße 299, Building 11
44809 Bochum
Germany
T. +49 (0)234 / 95913-0
Düsseldorf Sales Point
Kappeler Straße 145
40599 Düsseldorf
Germany
T. +49 (0)211 / 1598360-20
Münster Service Point
Höltenweg 95
48155 Münster
Germany
T. +49 (0)251 / 76384-0
Oberhausen Service Point
Kurt-Schumacher-Straße 265
46539 Dinslaken
Germany
T. +49 (0)2064 / 47508-47
Siegen Service Point
Am Eichenhang 23
57076 Siegen
Germany
Sales Region South
Ermano Pascocci
Kelterstraße 67
72669 Unterensingen
Germany
T. +49 (0)7022 / 6025-200
Bamberg Service Point
Rene Goldmann
Bambergerstraße 31
96199 Zapfendorf
Germany
T. +49 (0)9547 / 871457
Darmstadt Service Point
Michael Jung
Industriestraße 11
64319 Pfungstadt Eschollbrücken
Germany
T. +49 (0)6157 / 1587264
Gaggenau Service Point
Peter Hackner
Adolf-Dambach-Straße
76571 Gaggenau
Germany
T. +49 (0)7225 / 64155
Garching Service Point
Robert Kohl
Dirnismaning 34a
85748 Garching
Germany
T. +49 (0)89 / 89699-385
München Sales Office
Franz Habermeier
Richard-Reitzner-Allee 1
85540 Haar
Germany
T. +49 (0)89 / 89699386
Saarbrücken Service Point
Michael Hetzer
Am Torhaus 55
66113 Saarbrücken
Germany
T. +49 (0)7261 / 9745956
Senden-Hittistetten Service Point
Benjamin Hermann
Magirusstr. 23
89250 Senden-Hittistetten
Germany
T. +49 (0)7307 / 9273730

Sinsheim Service Point
Michael Hetzer
Am Leitzelbach 34
74889 Sinsheim
Germany
T. +49 (0)7261 / 9745956
Teningen Service Point
Johannes Zürcher
Tscheulinstr. 21
79331 Teningen
Germany
T. +49 (0)7225 / 64119
Trier Service Point
Michael Hetzer
Niederkircher Str. 16
54294 Trier
Germany
T. +49 (0)651 / 81002224
Unterensingen Service Point
Wolfgang Höschle
Kelterstraße 67
72669 Unterensingen
Germany
T. +49 (0)7022 / 6025241
International / Export
Annette Gölz
Kelterstraße 67
72669 Unterensingen
Germany
T. +49 (0)7022 / 6025-170
E. annette.goelz@swarco.de
Impressum
SWARCO TRAFFIC SYSTEMS GmbH
Address
Kelterstraße 67
D-72669 Unterensingen

T.: +49 (0)7022 / 6025-200
F.: +49 (0)7022 / 6025-199
E.: office.sts@swarco.de
Management: Marcus Anders, Ralf Biesenberger
Court of registration: Amtsgericht Stuttgart, HRB 723326
VAT no.: DE 246426590