Intersection of Things
With SWARCO X-Line Technology
SWARCO X-LINE is the future-oriented platform solution for energy-efficient modernisation of traffic light systems. It reduces operating costs through state-of-the-art 1-watt LED technology, avoids civil engineering work, construction sites, traffic jams and the resulting increased air pollution and can be easily combined with the existing light signalling system – regardless of the manufacturer.
Future functions, such as communication with cooperative vehicles, can also be easily integrated into SWARCO X-LINE.
Major Benefits
Better performance, less energy consumption
SWARCO X-LINE uses state-of-the-art 1-watt LED technology to help reduce operating costs.
In some cases it is even possible to dispense with an electricity meter in the control cabinet. Important for local authorities: In most cases, the modernisation of existing systems with SWARCO X-LINE is eligible.
The control system is decentralized, the lamp switches are integrated in signal transmitters and the detectors in masts.
This allowed us to significantly reduce the size of the switch cabinets - a big advantage for the municipalities, especially in the city centre.
Easy to integrate
into existing systems
A simple extension of your system by a signal transmitter or partial node is possible at any time with little effort.
Extremely practical for operators: Whether with conventional 230 V voltage, current 40 V LED technology or signal transmitters of the future - SWARCO X-LINE enables safe mixed operation when expanding existing systems. In particular, existing ACTROS control units can be upgraded today.
Modernization
without congestion
Another major advantage of SWARCO X-LINE, in conjunction with ACTROS control units, is that the existing cable infrastructure can be reused.
This means you save on civil engineering and costly road safety measures during the conversion of the plant - and thus also on unpopular construction sites, traffic jams and the associated additional pollution of the air by nitrogen oxides and fine dust. On top of that, you also save valuable raw materials through the copper cables you do not need.
SWARCO X-LINE also opens up completely new possibilities for temporary mobile traffic light systems. Thanks to compatibility with existing technology, flexible and cost-efficient solutions are possible with full site functionality - also because existing signalling plans can be used and the cabling of the system is overhead. Already during the construction or rebuilding phase, the subsequent
SWARCO X-LINE control unit can be used.
Special applications
as standard
SWARCO X-LINE can be excellently adapted to the individual control requirements of an intersection and also enables special solutions such as variable lane signalling. Even large sections can be operated with just one control unit: The signal transmitters can be up to 1 km away from the control unit.
X-Line Serial Connection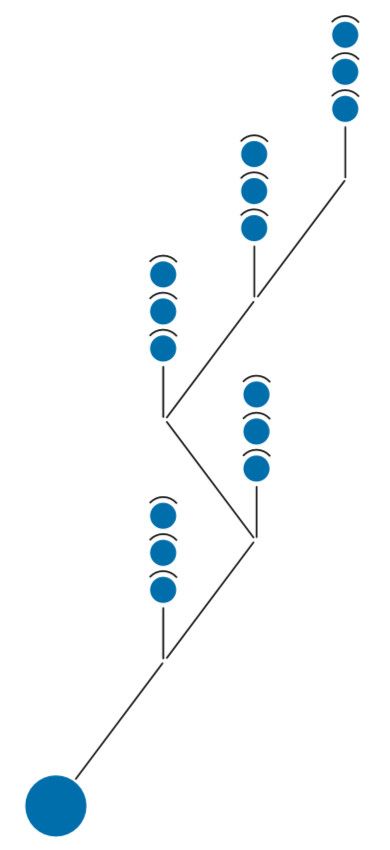 SWARCO X-LINE with serial connection is the cost-effective modernization solution for intersection control systems.
Special Features

Standard junction with traditional star-shaped cabling.
Partial nodes can be up to 1 km away thanks to SWARCO X-LINE

Due to the CAN bus technology used, new installations with SWARCO X-LINE require less civil engineering work. Already installed systems can be extended cost-effectively by using existing cables.