Cycling – Getting Around in a Safe and Environmentally Friendly Way
SWARCO Road Marking Systems' outstanding know-how further enhances the appeal and safety of cycling.
Cycling is highly popular and has a lot to offer. It keeps people in shape, doesn't require much space, and, in addition, it's environmentally friendly. Marking systems are essential in guiding cyclists safely from A to B. As a global player in this field, SWARCO Road Marking Systems plays a pioneering role in research and development. The company's innovative products make cycling safer and support sustainable urban development – benefits that SWARCO Road Marking Systems will also be emphasizing at the Velo-city 2022 in Slovenia.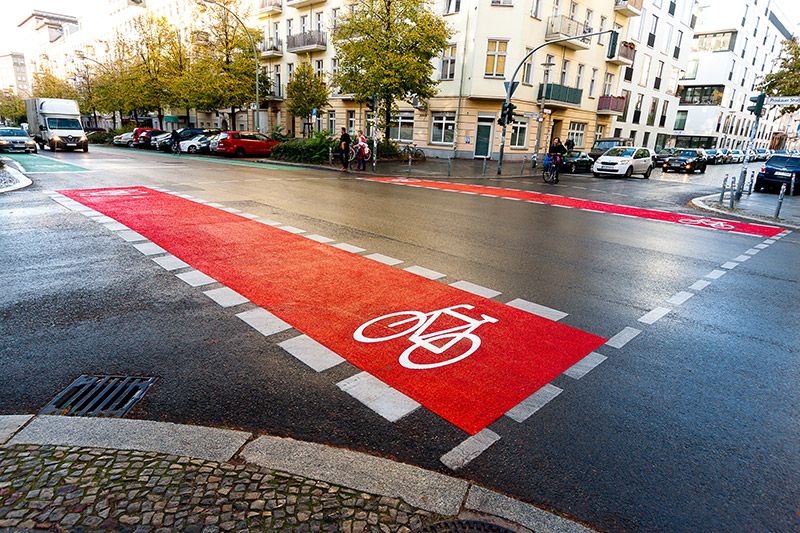 Conspicuous markings separate surfaces dedicated to cycling from other traffic areas in a clearly visibly way, making roads safer.
24 March 2022 – When it comes to sustainable solutions in road transport, bicycles are a prime example in the rapidly growing area of micro-mobility. "In statistical terms, more than a billion bicycles are in use on a regular basis worldwide, with four more added every second," says Jonas Orschel, Product Management & Sales at SWARCO Road Marking Systems. The reasons for this long-term trend are clear. Cycling is efficient, healthy and, above all, affordable. Particularly in cities, however, this development comes with infrastructural challenges.
Focus on Safety for All Road Users
Statistics show that unfortunately, the growing number of cyclists also comes along with an increase in the number of severe accidents. And children are especially at risk. "Modern traffic concepts rely on innovative solutions to enhance the safety of all road users, such as the use of conspicuous markings, which are a relatively simple but highly efficient means. Coloured bicycle lanes, combined with white preformed symbols and directional arrows are an effective way of calming traffic," Jonas Orschel explains. Colour contrasting to separate bicycle lanes from motorized traffic increases recognition, and prompts motorists to reduce their speed. "Area markings applied to bicycle lanes and cycle paths have proven their worth in many cities. They signal to both drivers and pedestrians that this area is reserved for cyclists. This helps prevent collisions and severe accidents. SWARCO Road Marking Systems is one of the global players when it comes to solutions like these," Orschel continues.
SWARCO Road Marking Systems at Velo-city 2022
Velo-city is the most important conference on cycling and bicycle traffic worldwide. Every year, the event brings together more than 1,400 participants from over 60 countries – and the number keeps growing. Participants address policies, the promotion of cycling and organization of bicycle traffic, as well as active mobility and sustainable urban development. And at this year's event, SWARCO Road Marking Systems is on board for the first time, too. "Velo-city has grown to become the most important conference on cycling and bicycle traffic worldwide." Jonas Orschel is convinced: "Thanks to our know-how, we are able to contribute constructively to the technical discussions and showcase how to further develop modern bicycle lane and cycle path concepts with the help of our sustainable products."

Velo-city 2022 will be taking place from 14 to 17 June in the Slovenian capital Ljubljana. Under the motto "Cycling the Change", this year's event will focus on the considerable growth in cycling and bicycle traffic, and the rethinking that is inspiring new approaches to urban development.