A Partnership for the Future of Individual Mobility
Together, SWARCO Road Marking Systems and ISAC GmbH measure the detectability of road markings.
Automated driving is the future of individual mobility. However, in order to make driving safer, automated driving requires reliable infrastructure. A specialist in highly visible road markings, SWARCO Road Marking Systems has a top-class cooperation partner in this sector. Together with ISAC GmbH, it evaluated a select test section of German Federal Motorway 27 near the city of Bremen. As a spin-off of the Institute of Highway Engineering at RWTH Aachen University, ISAC GmbH brings state-of-the-art scientific methods to the table. SWARCO contributes its many years of know-how in the area of high-grade road marking visibility. The first results are expected before the end of the summer.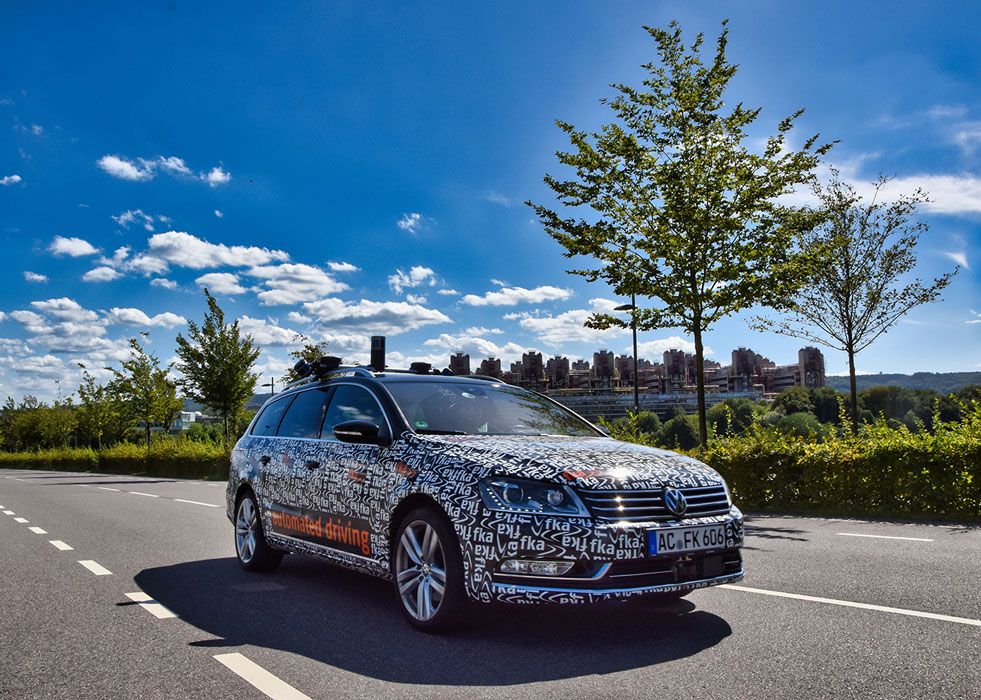 The digital detectability of the markings on the 64-km long test section of German Federal Motorway 27 was evaluated, among others, by special test cars conducting measurements.
29 July 2021 – "The future belongs to automated driving – that much is clear. But one thing is certain, too: The use of self-driving vehicles requires infrastructure to be 100 percent reliable. Scientific research projects and related measurements are foundational towards this goal. Together with ISAC GmbH, we provide yet another piece of the puzzle," explains Friedrich Wiesinger, Team Leader Product Development at SWARCO Road Marking Systems.
Intelligent Systems and Road Markings
Road markings can be described as the rails in automated driving. The vehicle's artificial intelligence uses the markings for orientation on the road. But automated driver assistance systems only work as reliably as the road infrastructure permits. SWARCO Road Marking Systems is a global player in this field, especially as far as research to further the development of marking technologies is concerned.
Intense research on German Federal Motorway 27 near Bremen has now been underway for close to one year. "We wanted to know how well currently used LiDAR sensors and cameras correlate with conventional visibility values, such as retroreflection and daytime visibility, in a wide variety of weather and road conditions," Friedrich Wiesinger explains. In fact, the motorway section between Schwanewede and Bremen-Sebaldsbrück includes old and new markings, several different kinds of markings, markings with solid or broken lines, and road surface segments in both good and bad condition. The presence of construction zone markings and a varied course of the road are also important for the testing.
Measurements and Algorithms
Tens of thousands of individual retroreflection measurements were used for reference. An fka GmbH test car equipped with cameras and LiDAR sensors drove on the test section in a broad range of weather and visibility conditions. Based on the raw data collected, the project team developed a multi-stage algorithm to quantify detectability. Subsequently, machine detectability was compared with conventional visibility values and characteristic values of markings. A first set of analyses showed that sensors can have difficulty with cracks, grooves or ruts in the road. "When systems perceive these kinds of road surface interferences as markings, it might become dangerous. High-grade marking systems could minimize the probability of such misdetections. In this respect, further research is still necessary, however", Friedrich Wiesinger says. The final results of this test series are expected in early autumn 2021 at the latest.
About SWARCO Road Marking Systems
Quality products and services from SWARCO Road Marking Systems guide traffic safely from A to B by day and, above all, by night. On all types of roads. Whatever the weather. From a single source. Over 5,000 customers in more than 80 countries place their trust in them.
For further information visit: www.swarco.com/solutions/road-marking-systems/autonomous-driving