Nature Oases in Industrial Zones
Some sites of the SWARCO Road Marking Systems Division already include nature-friendly company gardens. Given the significant benefits that they bring to employees and the environment, the plan is to create even more!
Employees make use of the company gardens to enjoy a little time-out close to nature in their everyday work life. In addition, these nature-friendly areas also create spaces for diverse and species-rich fauna and flora in industrial zones. SWARCO Road Marking Systems has already been recognized for its active commitment in this area.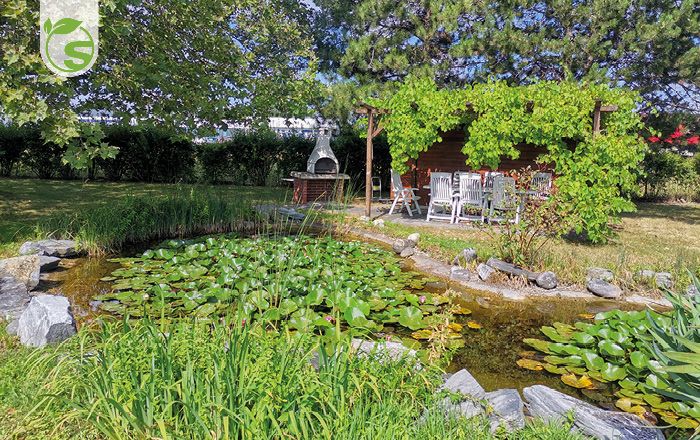 In summer temperatures, in particular, natural shade and a water biotope provide an inviting green space for a break or meeting, such as here at one of SWARCO Road Marking Systems' sites.
Photo: SWARCO Road Marking Systems
Be it striping companies, glass bead factories or lane marking producers – the SWARCO Road Marking Systems Division has been creating spaces for small nature oases at different sites throughout Europe. Projects range from water biotopes to large parks all the way to shared vegetable gardens.
Meeting Points Close to Nature
Thanks to these green spaces, employees can enjoy breaks close to nature at their doorstep. They can have a little rest on inviting lounge chairs set up here and there, take a short walk, or spend time with their colleagues outdoors, relishing flowers, hedges and trees in full bloom. Along with the staff, bees and other insects also love these areas. Beehives were therefore set up as well at one of the SWARCO Markierung GmbH sites in Austria. "This is a win-win situation," says Managing Director Georg Eder, expressing his excitement. "Such nature-friendly green spaces don't require as much care as a meticulously manicured English lawn. What's more, they provide food for bees, and we humans then get to enjoy the great honey they produce."
Vegetables from the Workplace
The company garden at the SWARCO site in Targoviste, Romania, is also something special. There, staff carefully cultivate and harvest vegetables, such as tomatoes and bell peppers, in raised beds that they made out of old pallet wood. Corina Berekmeri, Managing Director of the site, is delighted about the keen interest: "Colleagues are making ample use of this possibility. It is great to see that so many employees are participating with such enthusiasm and can look forward to a rich harvest."
Active Commitment Receives Recognition
Fostering biodiversity is, in general, an important concern to the SWARCO Road Marking Systems Division. Its active commitment, specifically the dedicated activities at the site in Neufurth, Austria, has already won recognition: As part of last year's "Taten statt Worte" (Actions Not Words) climate campaign, the project dedicated to the nature-friendly outdoor design of the corporate premises was ranked among the top 100 climate projects of the province of Lower Austria.

This recognition has motivated the entire Division to create additional green spaces with a natural diversity of indigenous, site-appropriate plants at other sites, too. A green roof was already installed at one site, with the greening of numerous flat roofs more to follow at other sites in the future, where feasible. "Our goal is to seal as few surfaces as possible," says Martina Dobner, Corporate Social Responsibility Specialist at SWARCO Road Marking Systems. "Setting up such nature oases around our sites requires time and money. We are convinced that these investments are highly valuable for the future and hope that many other companies will be following our example."
About SWARCO Road Marking Systems
Quality products and services from SWARCO Road Marking Systems guide traffic safely from A to B by day and, above all, by night. On all types of roads. Whatever the weather. From a single source. Over 5,000 customers in more than 80 countries place their trust in them.
For further information visit: www.swarco.com/rms