A conversation with Justin Meyer, SWARCO eVolt general manager
Justin Meyer, general manager of SWARCO eVolt spoke to Future Vehicle Magazine about his experience in the industry and his opinions on the future of eMobility
Justin Meyer is General Manager of SWARCO eVolt and responsible for the full P&L and growth of the SWARCO eVolt business, its sales and marketing strategy and people.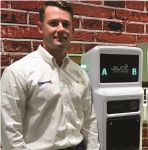 Future Vehicle: Could you tell me a little about your background in the sector?
Justin Meyer: I joined the business in 2010 to launch the eMobility division for the company. At the time it was just
me and the Technical Manager, Richard Frost. SWARCO eVolt was one of the early players to market with an EV
charging proposition when there were only a handful of other infrastructure businesses around. By 2012 the
business began to accelerate noticeably. In the ten years or so that I've been involved in the EV sector, I have actively
engaged with multiple public and private sector bodies to drive interest for EV adoption and recommend multiple EVI
solutions. I believe that I've played a key role in promoting the sector and advocating EV adoption.

FV: Could you provide a brief summary of your organisations offering to the market?
JM: From small beginnings we now comprise a team of more than 30 employees, and we are also supported
by an additional 20 administrative staff as well as 65 service engineers from our other division if required.
We have successfully delivered charging networks for 91 Councils and a large number of private businesses
throughout the UK – installing approximately 7,000 commercial charging points. These include the
complete range of AC and DC charging stations for cars, taxis and buses.

FV: Do you have a project you are working on and can provide some details?
JM: Scotland has been leading the way with EV charging infrastructure and our team in Scotland is doing excellent
work. We have completed a number of major council projects across the country including Inverness, Aberdeen,
Glasgow and Edinburgh, installing more than 2,300 charging points across Scotland.
But Dundee has been a significant project for us. We've helped successfully launch the first and largest purpose-built
charging hub in the UK, which is located on Princes Street in Dundee City Centre. This hub gives drivers access to
the latest version of our rapid charging units and it is also supported by solar power and energy storage technologies.
We have also installed a further two large size DC and AC combination hubs in Dundee to support the
growing number of EV taxis. Dundee's Greenmarket car park is our latest and first AC master controller / receiver
charging hub, which provides charging for 20 vehicles simultaneously. Transport Scotland continues to push
forward, providing financial support to public and private sector organisations. It is achieving great things and we are pleased
to be part of the progress being made.

FV: What are your reflections on 2018/2019?
JM: 2018 was a fantastic year for us – a record year in every sense and it culminated in SWARCO eVolt winning Green Fleet's Charging and Refuelling Infrastructure Provider of the Year. This year looks to be even better: we've already achieved the 2018 sales actual in the first seven months of 2019. We have an incredibly healthy and rapidly growing pipeline which will enable us to continue growing the business over years to come.
We have a clear focus on business development. Our sales team is growing, and we have been joined by Anne Buckingham as Head of Sales, leading a team of seven people who have specific customers and market sectors that they are responsible for. This includes Jamie Brockway as Strategic Account Manager for the car park sector, with 16 years experience from working for SWARCO's parking business APT Skidata. We have also been joined Dev Chana as a Strategic Account Manager for the energy sector, who brings with him a wealth of experience having worked for energy consultants, utilities and technology companies.

FV: What do you see as the key trends in the sector?
JM: Dev's appointment comes as we expect the large utility firms to play more of an active role in our market
so he is well placed to work with these customers. Another key UK market trend will be the continued expansion of private
network operators and their respective networks (i.e. businesses funding and establishing their own infrastructure).
We expect vehicle electrification to push further into the commercial sector, requiring bespoke infrastructure
solutions to support, for example the rapid growth of EV taxis – and eTaxi operators will be demanding prompt
re-charging. We'll likely see more adoption of EV for public transport and commercial fleets, which will bring challenges
around spatial and power supply limitations, so demand will rise for dynamic load management systems.
The UK market also requires investment into contactless payment technology, so we will continue to
support network integration and interoperability.

Demand for complementary technologies and services, to support the expansion of charging networks, will also increase in areas such as Energy Storage, for example, and onsite renewable generation, V2G, smart load management – and SWARCO is investing to ensure it continues to lead the sector through this exciting stage of growth.
FV: What are your targets looking ahead ?
JM: We will continue to develop products and solutions, including complementary technologies, and with
significant levels of investment secured, we will also continue to develop e.Connect – our back office solution –
introducing new features to drivers and hosts of our charging stations. Business development activity will
focus on strategic market sectors, as well as ensuring that our existing customers are supported as they look
to expand. To cope with a rapidly growing network we will continue to expand the operational team and
we will be investing more in our own electric vehicle fleet. The ultimate aim is to continue to be seen as the go-to supplier for charging infrastructure.

FV: What are the main challenges facing the sector generally and for you specifically?
JM: Range anxiety remains a fundamental challenge which the sector needs to collectively address. Along with
the cost of vehicles, which will continue to be a barrier to EV adoption. From our perspective, a key issue will
be keeping up with the rapid business growth. Whilst our team is expanding, and so too is our knowledge and
experience, we are fully committed to continued investment in our team. We must ensure that we can be the best
support for our customers and that we can keep attracting talented people to join our passionate and enthusiastic
team who are proud of the brand and the sector they work in.

FV: What is your summary message to the market?
JM: This is an incredibly exciting time, with some of our major projects coming to fruition. These projects will
make a real difference to EV drivers, and to owners and operators of charging networks. The work that is
being done now puts us on the right track to achieve the UK's future plans to go electric.

We are committed to support this by delivering continued innovation, whether that be our charging
technology or back office solution, complementary technologies, or further integration with intelligent
traffic technologies. We are also proud maintaining the highest levels of customer satisfaction and also of the
work our team puts in to achieve this. This sector is alive and growing and we are proud to be part of it, but we'll only
continue to be successful if we keep listening to what organisations want to achieve and then provide guidance once
we understand the challenge – so that we can advise on the technology which is right for today and for tomorrow. If
you want to learn more then get in touch.
The Future vehicle magazine can be found here