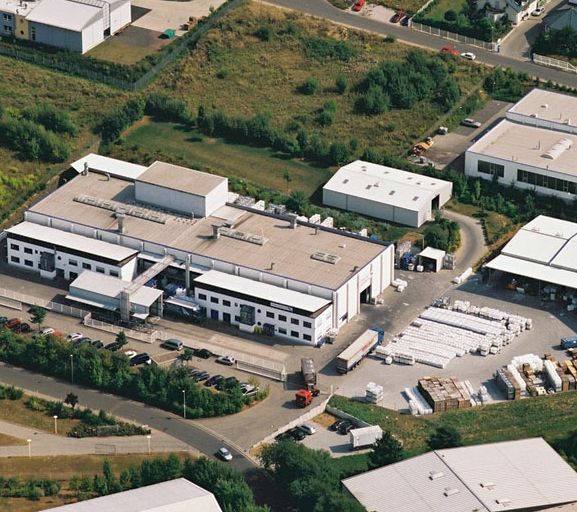 SWARCO LIMBURGER LACKFABRIK GmbH
Germany's number 1 in liquid road marking materials
SWARCO LIMBURGER LACKFABRIK GmbH is Germany's largest manufacturer of liquid road marking materials. We have one of the most modern production sites in the world, built in 1997 in Diez, after the old site in Limburg had to be torn down to make room for Germany's high speed ICE railway line between Frankfurt and Cologne.
With our 45 employees we generate an annual turnover of more than 22 MEUR and produce several thousand tons of road marking material on our 17,500 sqm premises. The majority of our products has been tested by BASt (Bundesanstalt für Straßenwesen, the German Road Institute). Our extensive product portfolio includes one and two component paint (soluble and solvent-based), cold plastic, sprayable cold plastic, thermoplastic, preformed marking materials and special products like thinners, primers, adhesives for road studs, fluorescent and phosphorescent paint, glass beads and anti-skid additives. Our main market is Germany, but we operate worldwide.
Based on our corporate policy we are continuously improving our quality management. With the integration of our active environment policy in our corporate management we can better comply with our responsibility as producer of road marking materials. SWARCO LIMBURGER LACKFABRIK GmbH has been certified according to DIN EN ISO 9001 since 2003, since 2012 we are certified according to DIN EN ISO 14001, and since 2022 we are also certified according to DIN EN ISO 45001.
SWARCO LIMBURGER LACKFABRIK GmbH is a company that trains industrial clerks, paint laboratory assistants, chemical workers and chemical production specialist. In 2008 we were awarded by the Federal Employment Agency for our support and promotion of trainees and apprentices.
In order to sustain our position as one of the leaders in the field of marking materials, we continuously strive to meet the requirements of both our customers and the official regulations in place. A competent research and development team of technicians and chemists is working on the improvement and development of materials and applications, in close cooperation with our marketing and sales team. The latest laboratory and production facilities enable us to offer products of top quality. Excellent functionality, environmentally-friendliness, workplace safety and cost effectiveness are the focus of our actions.
SWARCO LIMBURGER LACKFABRIK GmbH
Robert-Bosch-Str. 17
65582 Diez
Germany
T. +49-6432-9184-0
IMPRINT
Information according to § 5 (1) E-Commerce Law:
SWARCO LIMBURGER LACKFABRIK GmbH
Address
Robert-Bosch-Straße 17
D-65582 Diez
T. +49-6432-9184-0
E. info.limburgerlackfabrik@swarco.com
Managing Director: Mario Nöllge
Court of Jurisdiction: Amtsgericht Montabaur HRB 5502
Equity: 550,000.00 EURO
VAT Identification No.: DE113862412
Chamber of Commerce: Industrie- und Handelskammer Koblenz