SWARCO UV-LINE shows Tyrolean bacon the way
Handl Tyrol avoided downtimes in production with a revolutionary marking system.
Recently, new floor markings were installed at the Handl Tyrol site in Schönwies in the area of the packaging lines and in the warehouse. Due to the outstanding properties of SWARCO UV-LINE, the marking work could be carried out during operation for the first time.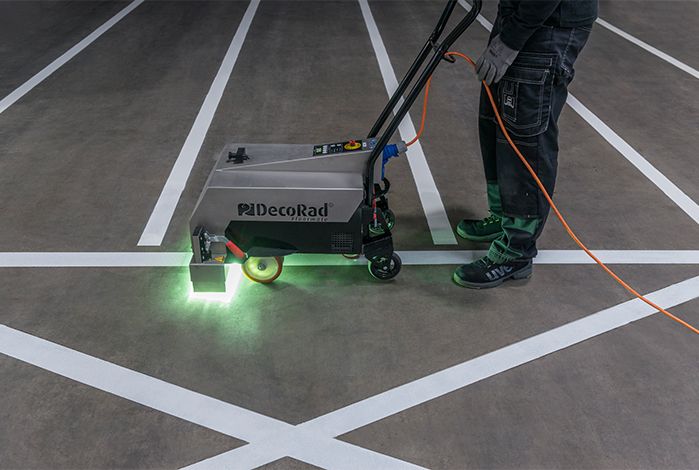 Schönwies, 12 March 2019
– Previously, we had to shut down our production for an entire weekend if ground marking work was necessary. Thanks to SWARCO UV-LINE, we were able to save ourselves these downtimes," says Michael Mallaun, Technical Team Leader at Handl Tyrol GmbH's Schönwies site.

Different substrates, cool temperatures
The floor markings were applied in the area of the packaging lines and in the warehouse. While an elastic plastic floor forms the base in the packaging area, the warehouse is equipped with a rough coated concrete floor. Cool temperatures prevail in both interiors: plus three degrees Celsius in the warehouse, plus six degrees Celsius in the packaging.

Immediate curing, no odour pollution
"SWARCO UV-LINE cured immediately on both substrates at challenging temperatures due to UV radiation. All processed areas could be released immediately after the markings had been applied. SWARCO UV-LINE is also free of solvents and odours. These properties and the valuable time savings make it the first choice for indoor applications in industrial, production and logistics buildings," explains Philipp Swarovski, Chief Operating Officer (COO) of SWARCO Road Marking Systems Division.
Handl Tyrol
Handl Tyrol specialises in the production of original Tyrolean bacon, ham, raw sausage and roast products. In 1902 Karl C. Handl ("The First") founded his own butcher's shop in Pians in the Tyrolean Oberland. He thus laid the foundation stone for an impressive success story.
Today the family business employs more than 500 people at four production sites. It is managed by Karl Christian Handl in the fourth generation.
SWARCO UV-LINE
As a revolutionary marking system, SWARCO UV-LINE saves time and money and protects the environment. SWARCO UV-LINE is a product of SWARCO Road Marking Systems, a division of the SWARCO Group.
Quality products and services from SWARCO Road Marking Systems guide traffic safely from A to B day and night. On all roads. In all weathers. From a single source. More than 5,000 customers in more than 80 countries place their trust in it.