SPS 468 CHEVRON SYSTEM
Making the Highways Safer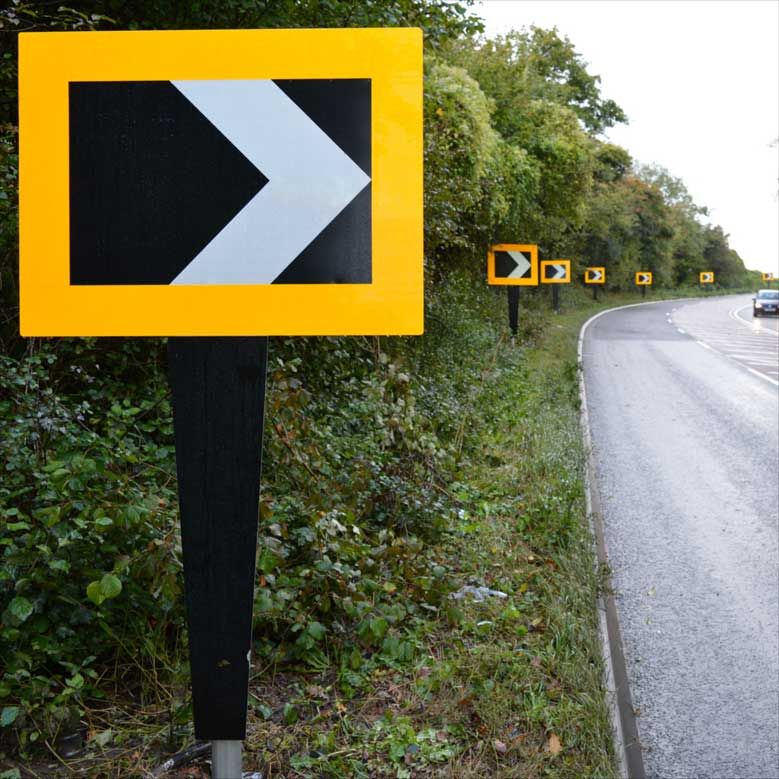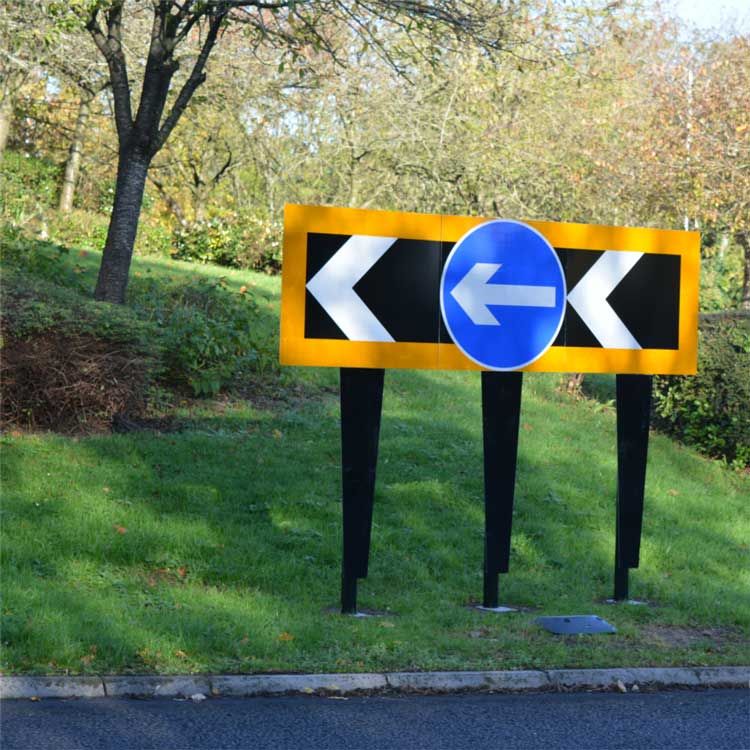 The SPS 468 - Safer and more cost effective
The SPS 468 Chevron from SignPost Solutions was designed primarily with the intention of warning drivers of sharp bends and roundabouts. In addition to this the focus, as always, is to deliver a high quality lasting product, one that is safe for the driver if involved in a RTA and one that offers a cost effective solution to the customer.

The SPS 468 post is manufactured from our patented aluminium signStr8 pole. The specially-designed flat edge on the Signstr8 pole prevents the chevron from rotating, which reduces the need for costly and potentially dangerous maintenance.
These posts are installed into a socket which means if they are hit they can be replaced quickly without having to dig out and replace concrete foundations.
The aluminium SignStr8 post ensures the Chevron can be angled in the socket to meet the best viewing angle and it is lighter than steel and safer if hit by a vehicle.
Many of the SPS 468 components can be recycled
Using the latest reflective sheet and yellow boarders makes the SPS 468 highly visible
Offers significant savings upfront as well as on maintenance costs​​​​​​​
The SPS 468 is light weight and can be install by just one person​​​​​​​
Patented SignStr8 aluminium anti rotational post system
Helps align the sign to best face oncoming traffic.
With a composite sign face and aluminium post construction, the SPS 468 is lightweight making it easy for manual handling and can be installed by just one person.
By using the latest in reflective sheeting technology, the SPS 468 can be seen from long distances and tight viewing angels.
Reduce time on site in front of live traffic for the operatives. The SPS 468 can be easily replaced in the event of an RTA usually within 5 minutes.
Whether using the SPS 468 for temporary applications or if you have a need to create additional road space for wide loads, the SignStr8 post is easily and quickly removed.
Complies with the European crash test standards, makes it safer for the driver if involved in an RTA.
With many components being fully recyclable the SPS 468 has been designed to make it an environmentally friendly as well as a crash friendly product.
With Distinctive clean lines makes the SPS468 easily identifiable with its sleek modern look.
Small Foundation Footprint
Minimal foundations required, saving time to install and less use of concrete.
Fully UV stabilised, weather resistant materials and 50 year life expectancy on the aluminium SignStr8 the SPS 468 is designed to last for years to come.