EVOLT RAPTION (SOCKET)
The Solution for Fast Charging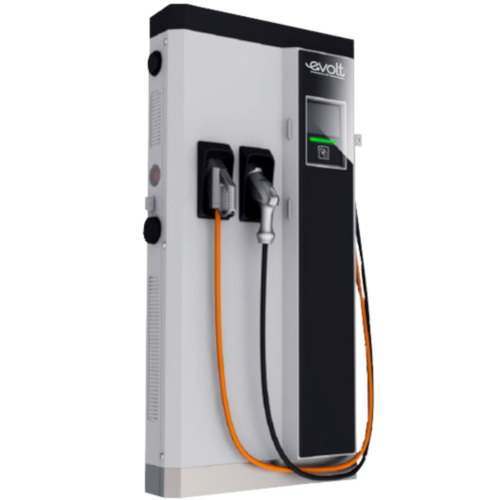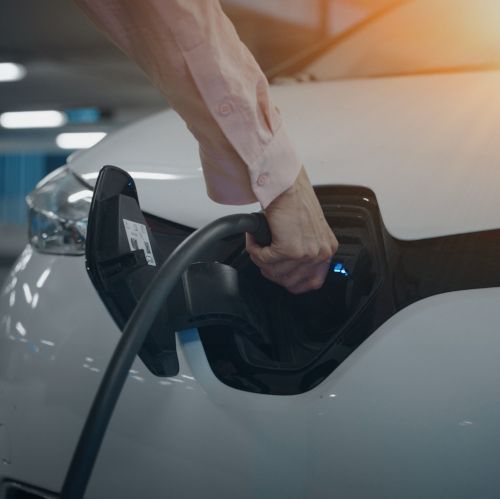 The narrow evolt Raptio snuggles elegantly into the cityscape and still has extensive functionalities. The charging station can optionally be equipped with DC Mode 4 CCS and / or CHAdeMO as well as Mode 3 Type 2 connector. The charging power is 1x 50 kW DC and 1x 43/22 kW AC.

Design
In addition to the latest technology, much attention has been paid to the design placed. The charging station presents itself refined, slim and robust. Ideal for all locations - from the elegant neighborhood to to the commercial area.
For operator / owner
The power module technology ensures a very high turn-on time (reducing the cost when not in use) because in the case of a power module failure, the remaining modules continue to charge.
Lower energy consumption due to a sustained high level of efficiency (power modules automatically switch off as soon as the vehicle requires less power).
The modular architecture provides scalable power (e.g., from 25kW to 50kW), providing a flexible solution to meet current and future battery needs of vehicles.
The lockable double door on the front provides easy and quick access for installation and maintenance.
For users
The daylight-capable 8 "touch screen allows you to select multiple languages and provides clear operating instructions, as well as information about the plug status and charging process.
Due to the integrated lighting, the charging station can be seen at any time even in dark areas.
Compliance with international standards for disability-friendliness.
Benefits
For installation in both public and private areas, where vehicles must be refueled in less than half an hour. Possible applications:
shopping malls,
airports,
petrol stations,
fleet car parks.
| | |
| --- | --- |
| Type designation | evolt Raption (socket) |
| delivery time | 6-8 weeks |
| | |
| Technical property | |
| charging power | 1x 20 kW DC / 1 x 22 kW AC |
| charging mode | DC Mode 4 CCS und/ or CHAdeMO sowie Mode 3 Typ2 |
| attached cable | CCS / CHAdeMO / Typ 2 |
| | |
| Operating concept | |
| Selection of sockets | Touch-Display |
| user guidance | graphical display |
| Communication | optional GSM |
| | |
| Mechanical execution | |
| dimensions (WxHxD) | 310 x 900 x 1700 mm |
| weight | 215 kg |
| mounting | Concrete foundation |
| | |
| Electrical execution | |
| max. suplly line / max. power | 3 x 63 A / 45 kW |
| max. supply line cross section | |
| current measurement | Toroidal transformer + pulse counter |
| | |
| Usability | |
| user identification | RFID / PIN |
| billing | Optionally in conjunction with GSM / OCPP 1.5 |
| | |
| Safety | |
| FI Typ B / FI Typ A | optional |
| kind of protection | IP 54 / IK 10 |
| protection class | 1 |
| | |
| | |