LED PUBLIC INFORMATION DISPLAYS
Long Lifetime and High Luminosity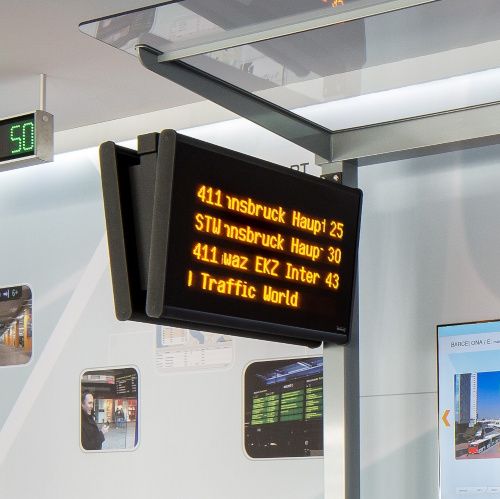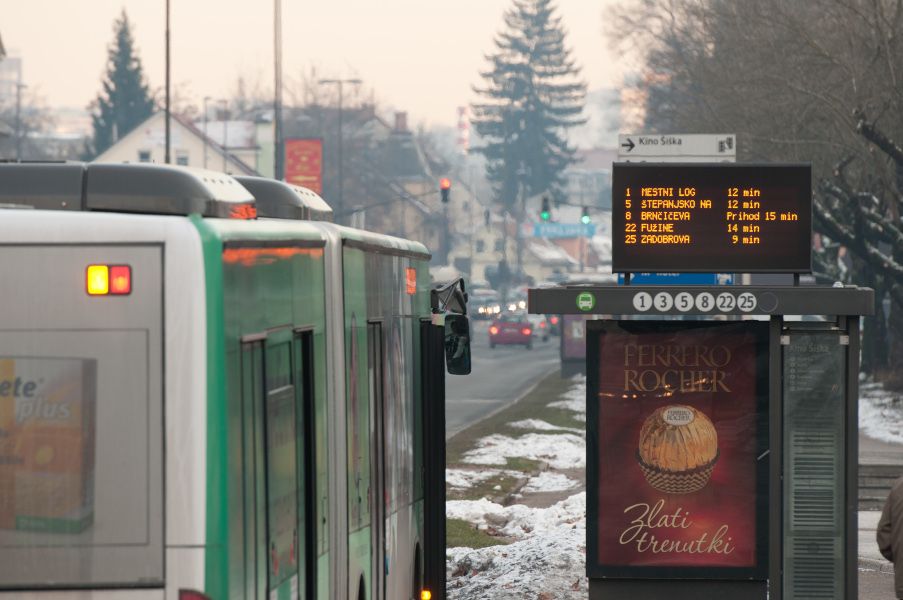 SWARCO's LED Public Information Displays (PID) are developed for airports, railway stations, bus- and tram-terminals. They can display flight, platform, tram and bus route numbers with destination and arrival/departure information in real time. Optionally, the products can be upgraded with several add-ons, such as voice announcements and vehicle detection.
The robust yet aesthetic housing is designed to withstand even the most demanding environmental conditions.
The PIDs are available in multi-line and full matrix version.
Highest Quality
and Know-How
made exclusively of high tier electronic components
developed and engineered on the basis of our know-how
slim and aesthetic design that gives you flexibility for customized installation and integration
exceptional readability and visibility under all weather conditions
wide viewing angle and colour uniformity
automatically controlled or manually adjustable luminance
stable luminance, independent of the mains voltage tolerances
resistance to permanent presence of conductive parts composed of conductive dust, rain and snow
modular design
autonomous operation
a wide range of pixel pitch options from 2.5 mm to 10 mm, fitting any application
over 10 years of experience on the segment of LED public information displays
Display

multi-line display type

full matrix display type

display of alphanumeric and graphic contents

several character sets supported: Latin, Hebrew, Arabic, others on request

dynamic content effects: scrolling text in all directions, flashing text, animations, etc.

autonomous operation mode

single sided or double sided display type

Character height

20 / 32 / 48 / 64 / 80 mm

Pixel

max: 65,000 pixel

Color of LED diodes

amber (other options: red, green, blue)

Reading angle

> 150°

Luminosity setting

automatic / manual luminosity level regulation

Audio

pre-recorded messages or Text To Speech, triggered with a push-button

Error detection

automatic individual pixel LED ED, position of broken LED, full or active pixel LED ED, automatic data line error detection

Service access

easy service access for effective intervention

Standards

low Voltage Directive – LVD 2006/95/EC

Electromagnetic Compatibility Directive – EMC Directive 2004/108/EC

EN 60950-1, EN 61000-3-2, EN 61000-3-3, EN 61000-6-1, EN 61000-6-3

Control

automated control with data from central system, manual intervention via dedicated software

Supported protocols

Linaria, Flash, JP open protocol (dll libraries)

others on request

Real-time clock

displays time and date, 12/24 hour format, keeps track of the current time without electric power

Communication

USB, Ethernet (LAN, W-LAN), RS-485, RS-232, RS-422, GPRS, ZigBee

Input voltage

230 V / AC (optional: 24 V / DC)

Housing Material

AlMg3

tinted front plate: Antireflective coated polycarbonate,

temperature range: -40°C to +55°C (EN 60721-3-4:1995)