BARRIER AUTOMATIC SYSTEMS BL43
Rapid Rising Barrier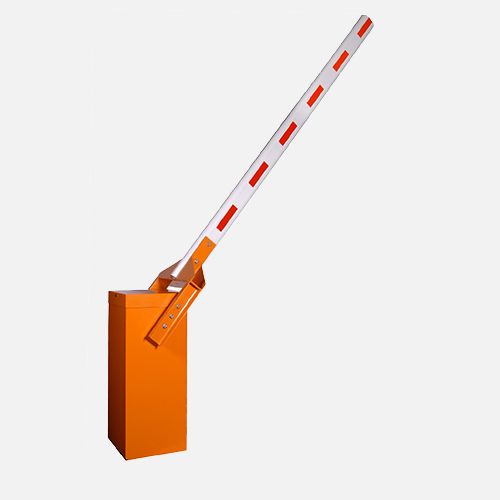 Rapid rising barrier, short- and medium range with reinforced oval section arm, for installation on public roads and parking, for improved traffic management.
High Energy-
Efficiency​​​​
Technical Details
Description of standard equipment:
Sheet metal body folded and welded, from 3 to 8 mm thick.
Lateral and frontal doors with peripheral sealing joint and lock, ensuring easy access to the mechanism.Two configurations are possible for their installation (see illustration).
Removable top cover, with lock and key.
Central oval reinforced section arm measuring 175 x 100 mm, in aluminium, white lacquered with red reflective strips.
Solid driving shaft for the arm, diameter 50 mm, mounted on 2 bearings lubricated for their entire service life.
Electromechanical assembly:
- Reversible three-phase asynchronous gear motor, ensuring protection of the mechanism in the event of forced lifting of the arm due to fraudulent action.
- Secondary transmission on gearwheel and sprocket wheel. Maintaining the arm in its two extreme positions (open and closed), as well as after a STOP command, is achieved by means of an electromagnetic brake.
- Frequency inverter ensuring progressive accelerations and cushioned decelerations, for movement without vibrations, direction inversion without jolts (reopening) and increased protection of the mechanism.
- Electronic limitation of the electromechanic assembly torque allowing for the immediate stop of the arm during closing in the event of an obstacle.
- Inductive limit switches.
- Balancing of the arm by means of one or more compression springs, depending on the weight of the arm.
Lever for manual lifting of the arm (except for the "automatic opening" option).
Parameterisable AS1320 electronic control board allowing for various control options and/or additional accessories.
Connecting terminal block with exterior on the control board:
- Providing arm position status (open or closed)
- Providing presence detectors status
- Allowing for master-slave control of 2 barriers opposite each other (movement of one barrier controlled by the other barrier).