HIGHWAYS UK
NOVEMBER 2020 | NEC BIRMINGHAM, UK
SWARCO will be exhibiting at this years Highways UK, at the NEC in Birmingham. The exhibition is a key event for finding the latest innovations within the Highways Industry.
Come back soon for a preview of what we will be displaying on the stand. You will find us on stand D64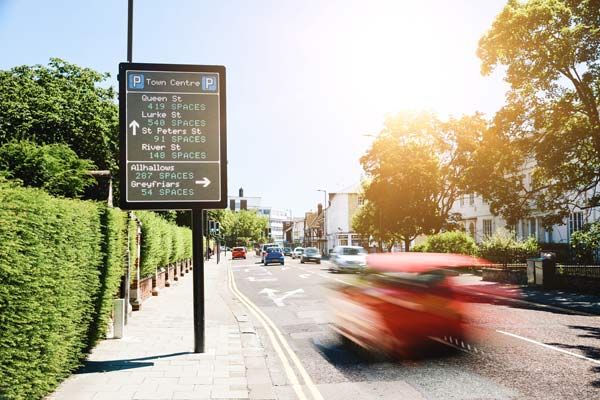 TRAFFEX SEEING IS BELIEVING
JUNE 2020 | Bruntingthorpe, Leicestershire, UK
SWARCO TRAFFIC Ltd. will be exhibiting its latest solutions for the Highways at Traffex Seeing is Believing 2020.
You will find the team at stand D6.
The outdoor event takes place at Bruntingthorpe Proving Ground and features seminar sessions alongside demonstrations and displays of the latest equipment and the latest innovations from the industry.
Find out more here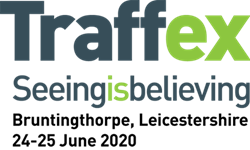 ITS WORLD
CONGRESS & EXHIBITION
2020
From 4 to 8 October 2020 the global ITS community meets in California.
SWARCO and McCain Inc. will be present as exhibitor.
Los Angeles Convention Center | California | USA
Join the online conversation
for highlights before, during,
and after the event.
ITS EUROPEAN
CONGRESS & EXHIBITION
2020

From 18 to 20 May 2020 the European ITS community meets in Portugal's capital, Lisbon.

SWARCO will be present as exhibitor.

Join the online conversation
for highlights before, during,
and after the event.

LOWER CONGESTION AND CREATE GREENER PORTS WITH INTELLIGENT TRANSPORT SYSTEMS
Improving the environment in and outside cities all over the world is currently one of our society's top priorities, and traffic congestion on its own accounts for approximately 30% of the total congestion in the cities. With Intelligent Transport Systems, these numbers can be lowered – even by ports, which play an important role in our society, especially regarding logistics.
Since more than 90% of trade is carried by sea, ports play an important role in international logistics, as a result capacity requirements and expectations for more advanced services are continuously growing. A port's ability to reduce delays, control and secure cargo and connect to the existing infrastructure is key to satisfying customer requirements and enhancing supply chain efficiency. Intelligent Transport Systems can ensure better logistics and work processes for ship, truck and visitor traffic while not compromising any of the strict security requirements.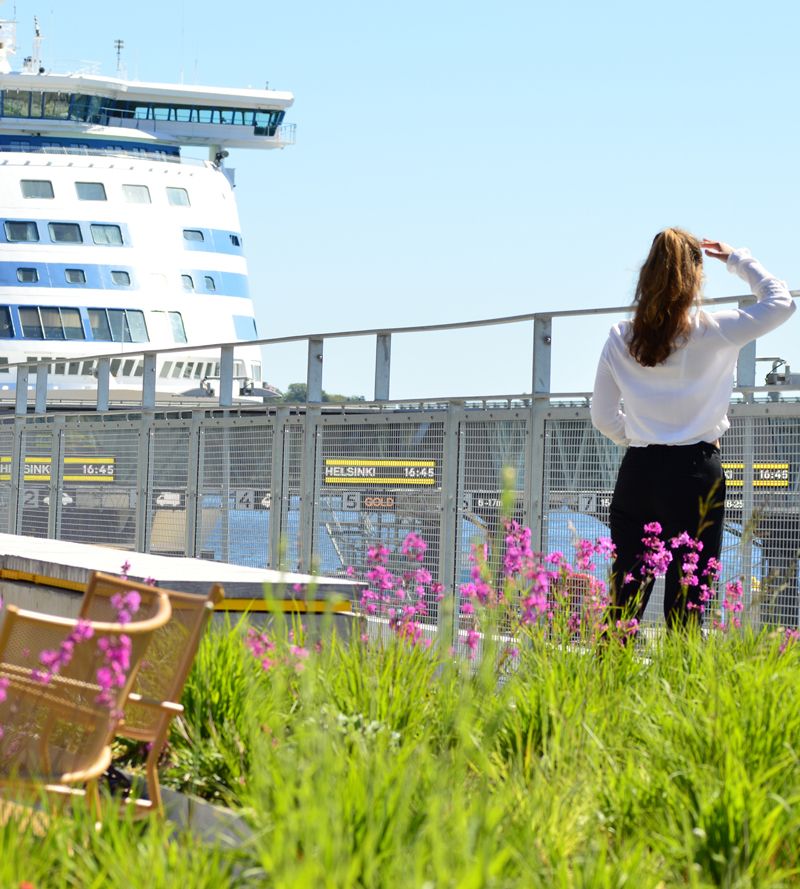 How can Intelligent Transport Systems (ITS) make the port greener?
ITS are used in cities, tunnels and on highways to improve traffic flow by guiding travellers and providing them information and new modern priority or micro-mobility solutions for a better travelling experience with decreased congestion. The same principle can be adapted at ports. SWARCO's Port Control System makes handling of trailers, visitors' traffic and guidance much easier.
This is how ITS can be used at ports to minimize congestion: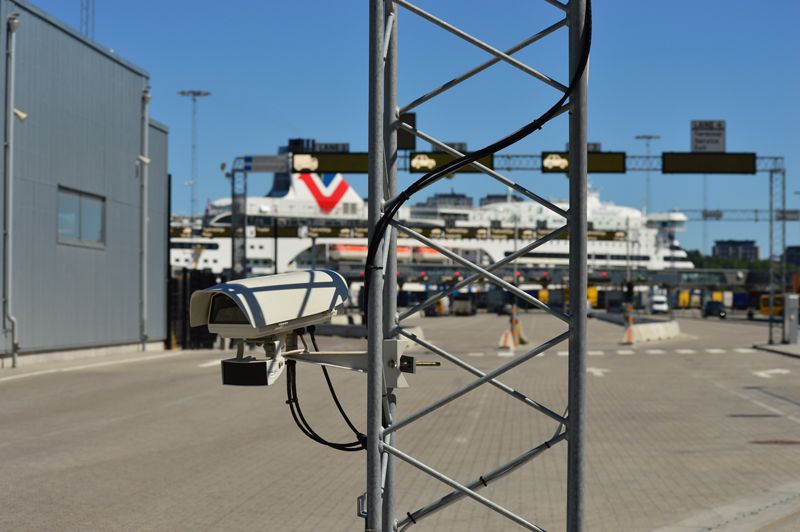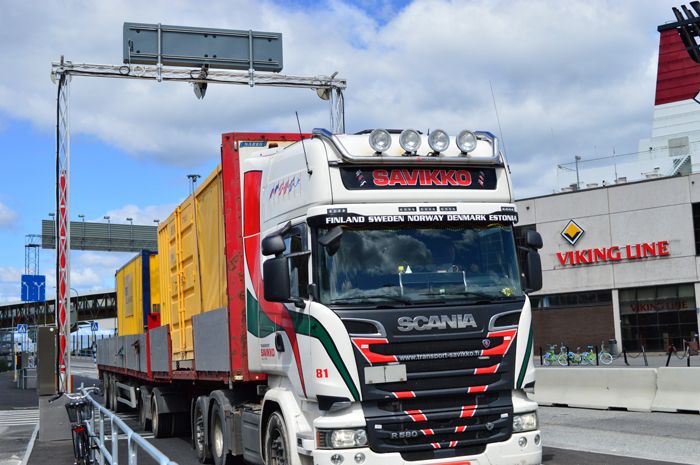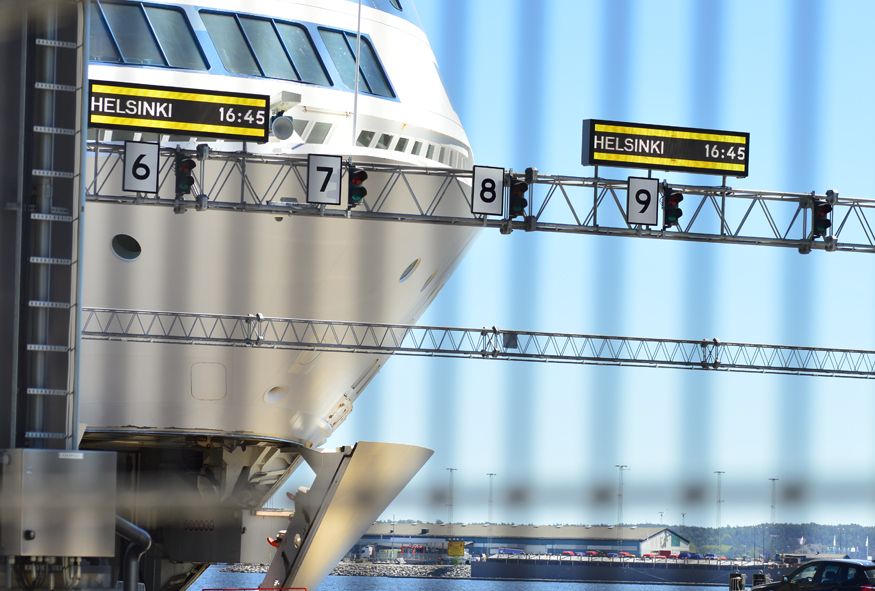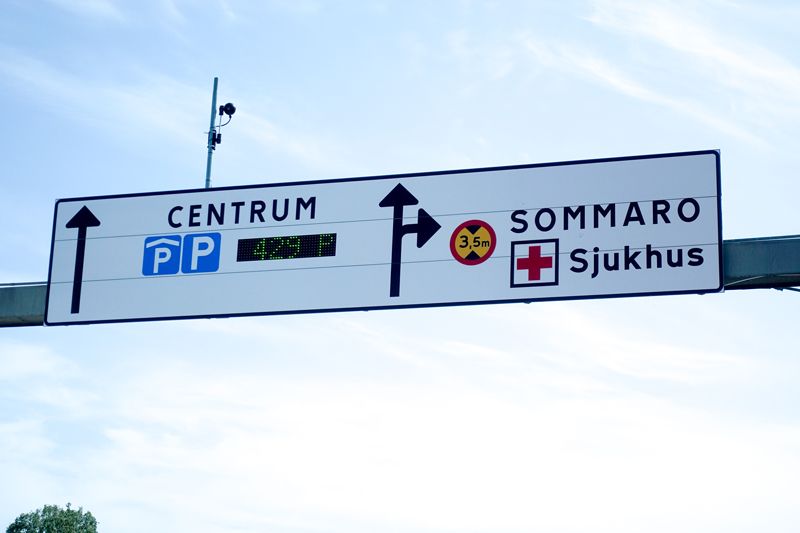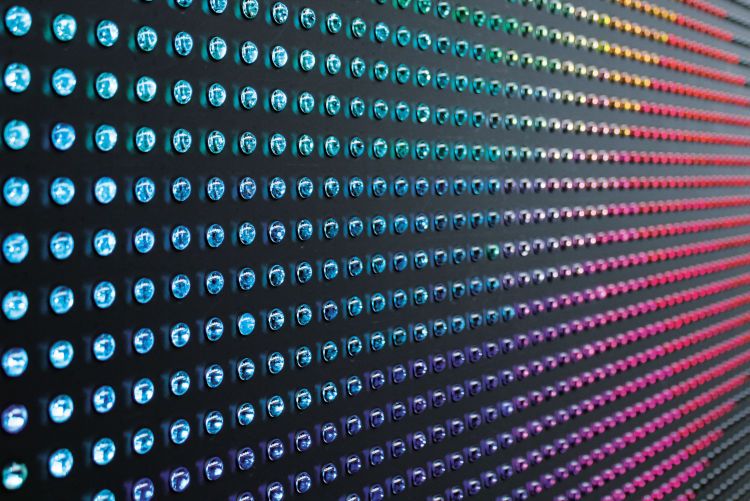 1. Automated handling of all vehicles entering the port – decreased waiting time in lines and less exhaust:
By making waiting lines more efficient we reduce queuing and the congestion that comes with it.
2. Streamline trailer management – efficient logistics and control of environmentally hazardous goods
Guiding trailers to the right waiting area and keeping track of their positions and specifications can make the loading and unloading process more efficient. Management of dangerous goods is made easier and even more importantly – more secure.
3. Traffic guidance by variable message signs for better traffic flow:
When guiding all vehicles straight to the right lanes, we create better traffic flow with fewer stops and wrong turns, which results in an overall lowered congestion in cities. This also provides visitors with a more pleasant visit to the port.
4. Optimizing the area instead of expanding the area, more space for cities or forests:
Optimizing the port and improving traffic flow makes it possible to lower congestion. It's also possible to minimize the port's area while still
managing more vessels. SWARCO's project with Ports of Stockholm at Värtahamnen is a great example of this; the environmentally friendly port of Värtahamnen, with its five berths and modern passenger terminal, can now simultaneously handle more ships and more traffic within a reduced area compared with previously. The city of Stockholm has thus regained large parts of the area occupied by the port, which in turn means more space for the city to develop new homes, open spaces and jobs.


5. Parking Guidance around the port – no need to drive around searching for parking
When visitors have to drive around to look for free parking spaces, it is not only stressful it also leaves unnecessary and negative imprints on the environment due to the congestion it causes. This unnecessary extra driving can easily be avoided by implementing a parking guidance system that guides visitors directly to free parking spaces with the necessary requirements, e.g. parking with charging stations or accessibility-adapted spaces.


6. Using the latest LED technology to lower energy consumption
All SWARCO signs and lighting allow for an up to 97% reduction of LED forward current (depending on pixel pitch), maintaining all optical requirements with the highest performance of brightness, contrast and visibility even in situations with strong sunlight during the whole life cycle of the variable message sign, thus increasing availability and ensuring the lowest possible energy usage.

In conclusion, by making traffic flow more efficient we are able to minimize congestion all over our cities, ports and parking areas. This plays an important role in our society as ports are, and will continue to be, one of its essential building blocks. ITS ensures that the workflow, traffic flow and trailer management are made more efficient and more environmentally friendly.

America's exhibition for Roadway Safety.

January 2020 | New Orleans
Come see us at ATTSA Traffic Expo.
Over 3500 highway safety professionals and transportation officials will gather to discuss the latest highway safety issues and solutions to improve transportation on the world's highways.

Harald Mosböck will give insights on "European Policy / Processes in terms of Road Markings" in course of the Pavement Marking Committe" on the 25th of January between 8:30 am and 12:30 pm. Don't miss it!

Click here to see the full schedule of all ATSSA events

Stop by and visit us to discuss your pavement marking needs and how SWARCO can assist you with economical and innovative road marking solutions.

Visit us at Booth # 1315
Join the online conversation
for highlights before, during,
and after the event.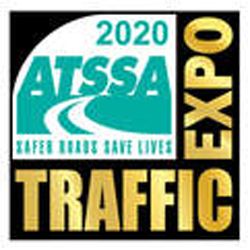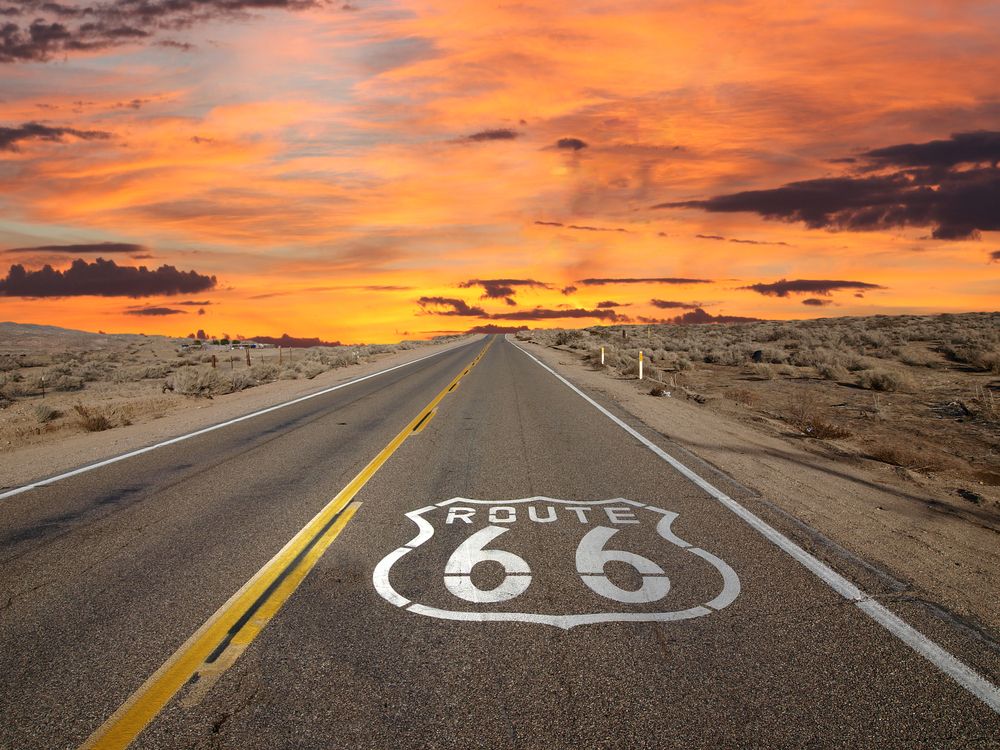 In June all of the new parking signs in Karlstad were activated. The signs will help tourists and citizens of Karlstad to easily and comfortably find a place to park, already as they are getting off the highway

.


"The project has been great in so many ways. Search traffic and congestion will be reduced; people will be able to plan where to drive, and this will also show that there are actually available spots", says Henrik Lindblom, chairman of Karlstads Parkering AB to Värmland Folkblad.


In total 31 digital signs are installed all over the city. 19 of the signs are showing the direction to the available spots, while the rest are directly connected to the parking areas in the city. As Karlstad is a regional capital, receiving visitors and tourists in a good way is quite important, and an essential part in this is making navigation in traffic and parking more convenient and stress-free.


Good project for citizens and tourists
Especially if you are new to a city, you will feel more welcome if you get helpful services and guidance. Citizens and retailers will also benefit from guidance since the system shows that there ARE available parking spots. Spots which people normally would not find.
"We have always known that there are places to park, and we have also realized that the drivers' dissatisfaction actually came from not being able to find those parking places", says Mr. Lindblom.
Instead of people driving around in frustration, they can use their valuable time doing what they came there for.
Would you like to know more about the parking guidance solution?
Read more about our parking guidance solutions:


Link to article in Värmlands Blad
(subscribtion only and the text is in Swedish).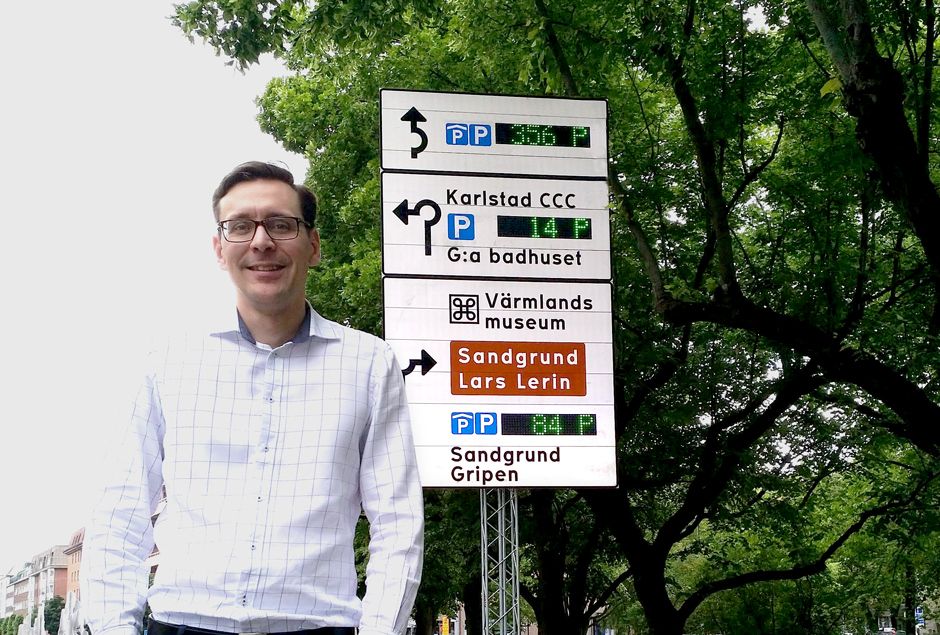 Image: Nils Iverlund, SWARCO, showing one of the installed parking guidance signs.
"The project has been great in so many ways. Search traffic and congestion will be reduced; people will be able to plan where to drive, and this will also show that there are actually available spots"
- Henrik Lindblom, chairman of Karlstads Parkering AB to Värmland Folkblad
avoid searching for a place to park



If you drive into a larger city or town and need somewhere to park, you obviously want a convenient parking space close to your destination. Parking Guidance from SWARCO can help you. You will be guided directly to the most optimal parking spot, regardless of whether you park at a park-and-ride or in the city center.

How parking guidance works
Camera-based solutions and sensors detect whether there are available parking spaces, for both indoor and outdoor parking. The information is sent wirelessly to apps, to physical signs along the road and to other devices so you can find parking in the most efficient way. SWARCO also collaborates with car manufacturers to get information about available spots directly into the car.
In the near future, parking can be even more convenient. At the ITS World Congress in Copenhagen last autumn, SWARCO and Audi presented a new parking solution together. In the demo area, the driver stepped out of the car at the entrance of the parking area, and then the car parked itself. When the driver wanted the car back, he just used an app.
"The pilot projects are done on a small scale now," emphasizes the Managing Director at SWARCO Norge AS, Ørjan Hegg. - But the technology is highly accessible.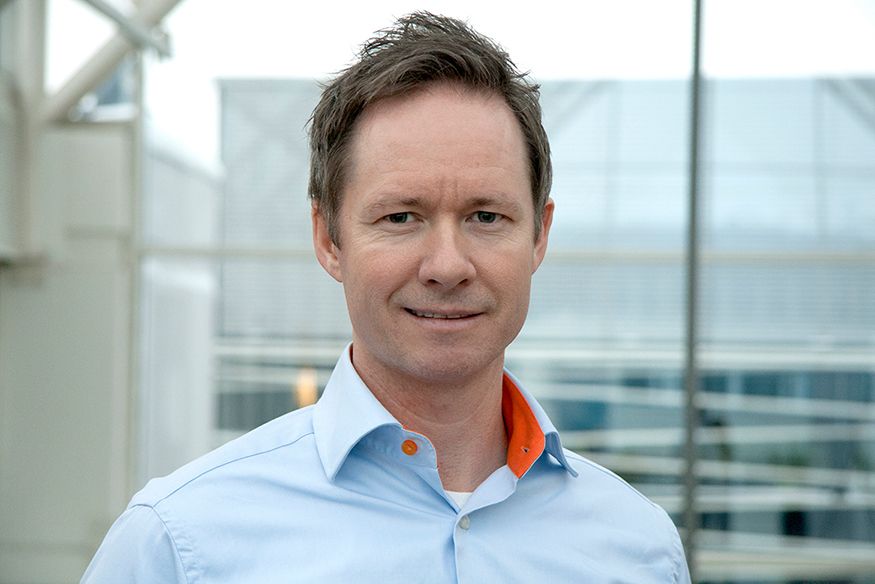 Hegg explains that the new technology is both useful and environmentally friendly, and will at the same time create advantages for car manufacturers in the future:
- Car producers must differentiate themselves in the market. We believe that premium cars offering this type of comprehensive service might be rolled out within a couple of years. Parking Guidance, however, is ready for implementation in Norway already today, he adds.


Other European cities are more ahead
SWARCO, which has delivered more than 95% of the traffic lights in Norway, also has long international experience in traffic regulation and parking, including City Guidance.
"- The service is more common in other European countries, such as Germany; Norway however is a little behind", Hegg explains.
Environmental improvements needed
- Urbanization and a need for environmental improvement raise the importance of streamlining traffic flow in and between cities. He refers to a survey done over years that shows that approximately 30% of all urban driving in some cities and city areas are just people searching for a place to park:
"- It's obvious that we can reduce the bad environmental impact if motorists in urban areas are guided to the most convenient parking space."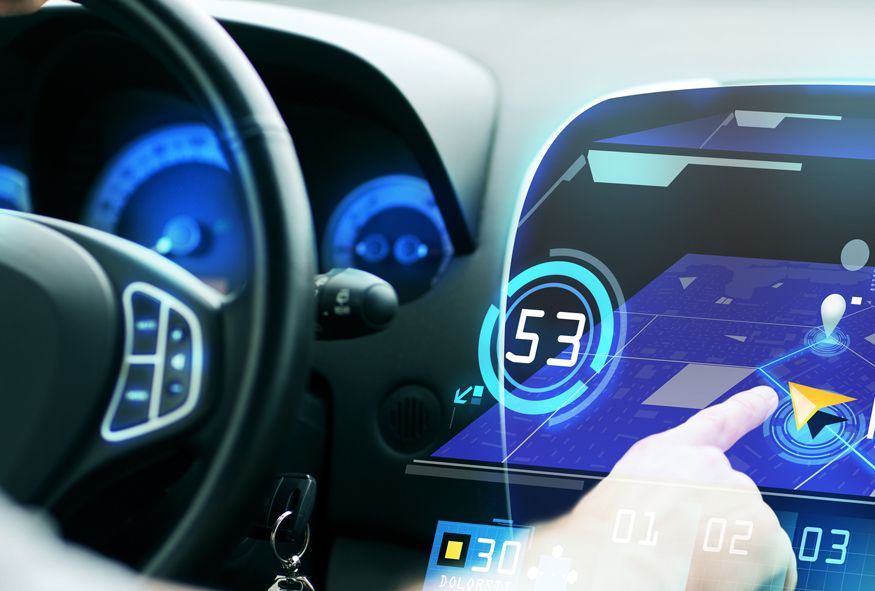 "Parking Guidance has a positive environmental impact in urban areas"
- Ørjan Hegg, Managing Director, SWARCO Norge AS

Want to know more about our parking guidance solutions?


Watch the original article in Teknisk Ukeblad, 06-2019 (Norwegian):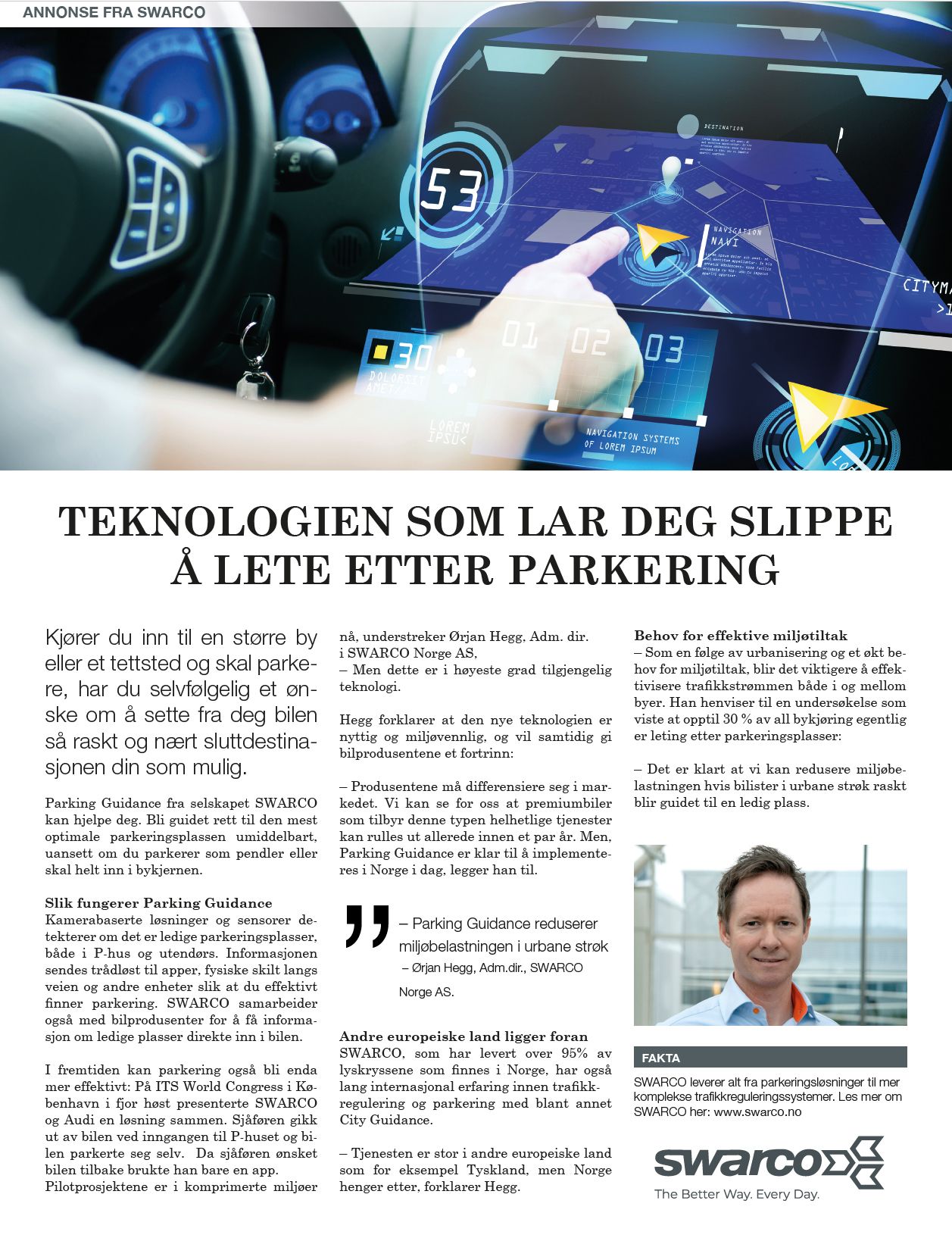 Don't miss our largest exhibition appearance.
April 2020 | Amsterdam
Since its launch in 1972, Intertraffic Amsterdam has become the platform of choice for professionals from around the world to meet.
From 21 - 24 April 2020, market leaders and experts attend this must attend event to do business and get up to speed on the developments in the fields of infrastructure, traffic management, safety, parking and smart mobility. World leading companies and stakeholders demonstrate their latest solutions during the four-day exhibition with a focus on personal encounters.
SWARCO will be present again on the world's no. 1 traffic technology and smart mobility exhibition on three stand locations:
Hall 10.104 (ITS Solutions)
Hall 05.306 (Road Marking Systems)
RAI Amsterdam
Amsterdam | Netherlands
Hall 10.104 (ITS Solutions)
Hall 05.306 (Road Marking Systems)

Join the online conversation
for highlights before, during,
and after the event.